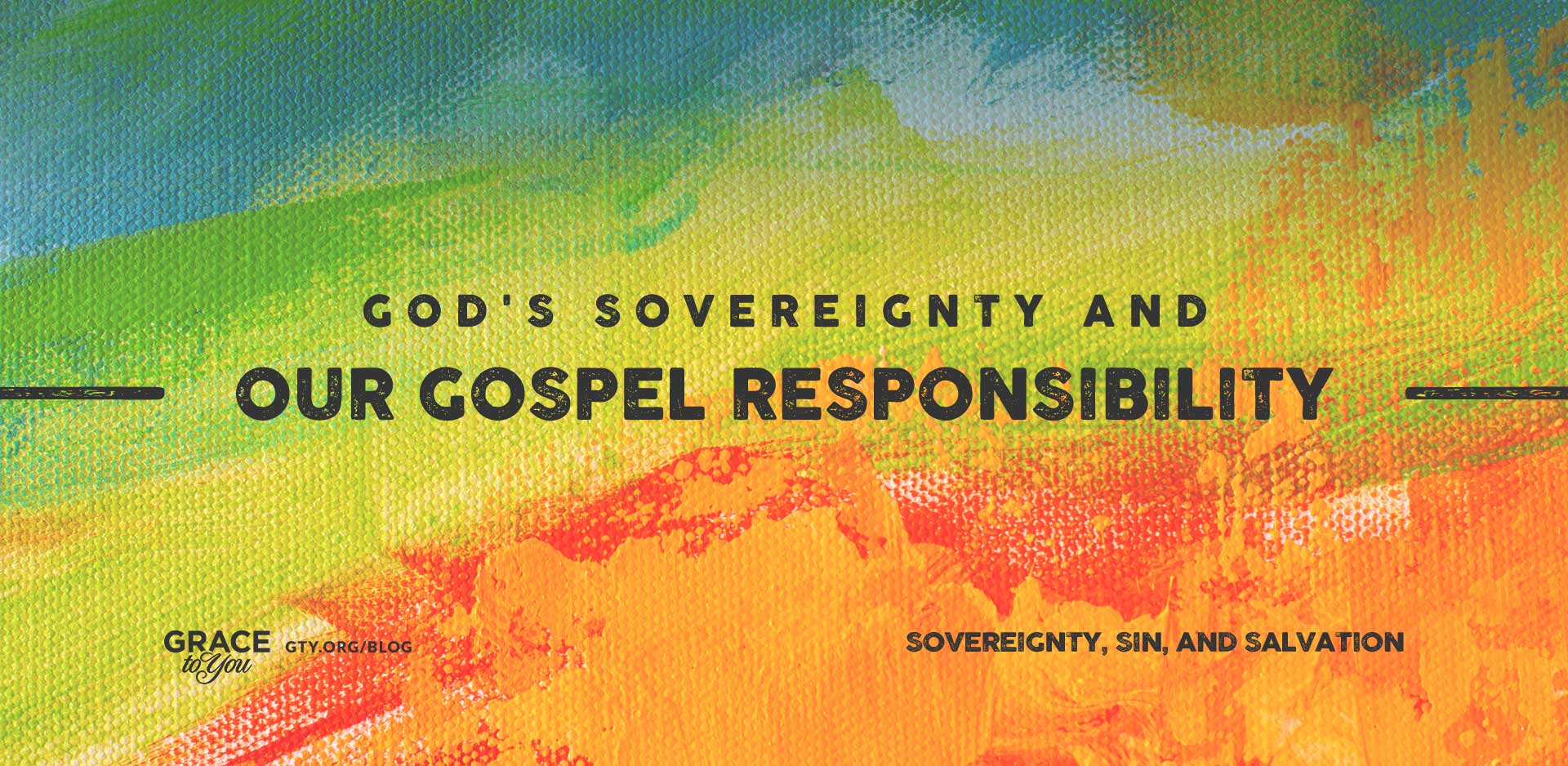 by John MacArthur Wednesday, April 8, 2020
God is absolutely sovereign in the calling and conversion of His elect. As we have seen previously, the apostle Paul makes that cardinal truth inescapably clear in Romans 9. But why preach the gospel if God is sovereign over His redemptive work? Why call on sinners to repent and believe if the work belongs to God? The apostle Paul explains why in Romans 10 and 11.
In addition to divine sovereignty, Paul also understood that salvation requires faith. God hardens whom He hardens; He has mercy on whom He has mercy. And yet sinners are fully responsible for rejecting Christ. Referring to the nation of Israel, Paul says their problem was that "they have a zeal for God, but not in accordance with knowledge" (Romans 10:2). Israel had fabricated a Yahweh of their own making, just as they had in the wilderness when they made the golden calf. As a result, they had no appreciation for how righteous God is, or how sinful they were. They knew God had commanded them to "be holy to Me, for I the Lord am holy" (Leviticus 20:26), but they had no idea what constituted true holiness. They falsely believed that a grand display of fastidious public piety was the same as true righteousness, and that God was concerned with their outward behavior more than the state of their hearts. In effect, they inflated the value of their own standards while underestimating God's, presuming that they could attain righteousness through their own moral and religious achievements.
Paul says it was a function of their ignorance—that "not knowing about God's righteousness and seeking to establish their own, they did not subject themselves to the righteousness of God" (Romans 10:3). They didn't understand that good works and sacrifices do not merit God's favor (1 Samuel 15:22; Psalm 51:16–17)—that Christ's life brought an end to the law and fulfilled the necessary righteousness for everyone who believes. They didn't understand that Christ frees the penitent believing sinner from the condemnation of the law. They were still trying to achieve a righteousness of their own by the law (Romans 10:5). But Paul makes it clear in his letter to the Galatians that there is no hope of righteousness or salvation through the works of the law.
For as many as are of the works of the Law are under a curse; for it is written, "Cursed is everyone who does not abide by all things written in the book of the law, to perform them." Now that no one is justified by the Law before God is evident; for, "The righteous man shall live by faith." (Galatians 3:10–11).
If you put your hope in your ability to live up to the perfection God's law demands, you're inviting God's wrath and your own damnation.
It should shock us that this chapter on the necessity of faith (Romans 10) backs right up against chapter 9, with its emphasis on God's sovereignty. Statements like "I will have mercy on whom I have mercy, and I will have compassion on whom I have compassion" (Romans 9:15) may not seem to harmonize easily with Paul's focus on faith in chapter 10. Consider what Paul writes in verses 11–13,
For the Scripture says, "Whoever believes in Him will not be disappointed." For there is no distinction between Jew and Greek; for the same Lord is Lord of all, abounding in riches for all who call on Him; for "Whoever will call on the name of the Lord will be saved." (Romans 10:11–13)
In Paul's mind—and throughout God's Word—these two truths about the necessity of salvation—one stressing God's sovereignty, the other declaring the sinner's responsibility—consistently go together, and no caveats or explanations are given.
Our Gospel Duty to Our Sovereign God
Instead, Paul turns to a third essential element of salvation—our gospel duty. He writes,
"Whoever will call on the name of the Lord will be saved." How then will they call on Him in whom they have not believed? How will they believe in Him whom they have not heard? And how will they hear without a preacher? How will they preach unless they are sent? Just as it is written, "How beautiful are the feet of those who bring good news of good things!" (Romans 10:13–15).
If you want to understand the marvelous work of salvation, you have to account for all three principles: divine sovereignty, human responsibility, and gospel duty. "How will they hear without a preacher? How will they preach unless they are sent?" (Romans 10:14–15). Paul understands that an essential means by which divine sovereignty and human responsibility come together is through our gospel duty as we proclaim the truth.
This is yet another mysterious element in God's sovereign plan. He could simply invade the hearts and minds of those He chose to save, but He doesn't. His plan does not conform to the lopsidedness of human reason. In His divine design, His unmerited grace must be met with a positive response of obedient faith. And once redeemed, His people enjoy the privilege of heralding His grace to others. God could have chosen any means to communicate His gospel to the world, but for reasons we can't fully comprehend, He chose us.
The simple truth is that we must adore God and be content to understand Him to the degree that He has permitted us to. We can ask nothing more. We must not foolishly think we deserve more or even dream of making suggestions to Him about how He ought to explain Himself to our satisfaction. We have enough to worship Him and to love Him with all our heart, soul, mind, and strength, and to be lost in wonder, love, and praise.
That's what Paul is doing in Romans 11. Near the end of the chapter, Paul exults, "Oh, the depth of the riches both of the wisdom and knowledge of God! How unsearchable are His judgments and unfathomable His ways!" (Romans 11:33). In the study of God's sovereignty, that's where we all should end up—accepting that we won't ever fully know or understand the mind of God. Psalm 139:6 reminds us that "such knowledge is too wonderful for me; it is too high, I cannot attain to it." God's ways are far beyond us.
But in the same breath we must acknowledge our love for these rich truths. We love the truth of divine sovereignty. We embrace the truth of human responsibility. And we cherish our gospel duty.
God's sovereignty is one of several truths Scripture teaches about God that are inconceivable, incomprehensible, unfathomable, and unsearchable. It's futile to wish that God had revealed more (or explained more) about how His sovereignty functions without destroying human free agency. But more information wouldn't necessarily answer all our questions anyway. Some truths (like the obvious but incomprehensible concept of infinity) can only be accepted and admired; they can't be condensed and wrapped in a package that fits inside the human brain.
Paul sums that principle up with a rhetorical question, "For who has known the mind of the Lord?" (Romans 11:34). That ought to give us pause in our search for answers. We'll never wrap our finite intellects around God. His sovereignty is a truth that should provoke wonder and worship. What's clear is that God is completely sovereign, and He never exercises that sovereignty in ways that conflict with or compete with His righteousness, grace, and justice.

(Adapted from None Other)