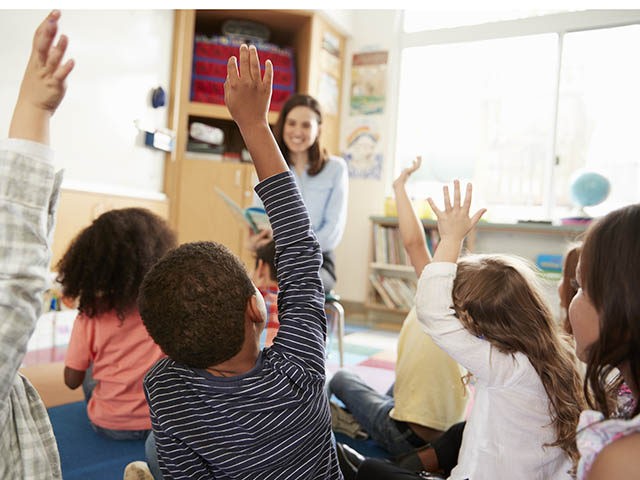 18 school board groups cut ties with NSBA for likening parent protests to 'domestic terrorism'
By Ryan Foley, Christian Post Reporter| Thursday, December 09, 2021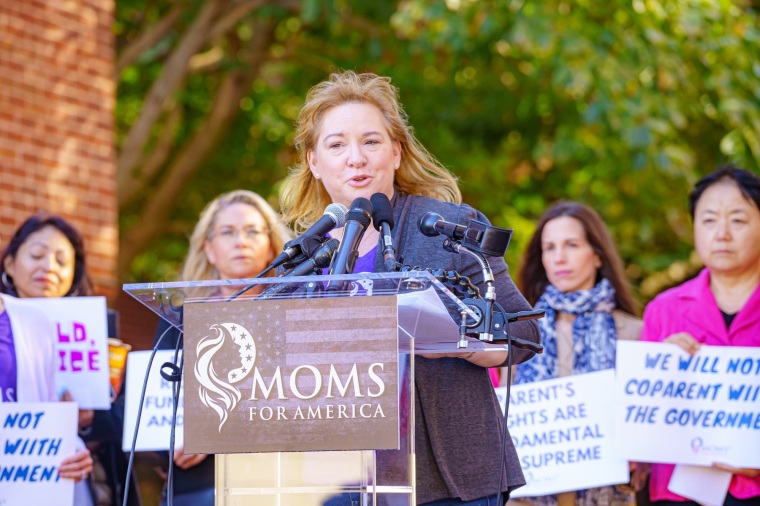 The fallout over a letter from the National School Boards Association comparing parent protests and threats to domestic terrorism continues as 18 state affiliates have announced intentions to cut ties with the national education organization, according to a watchdog group.
The letter at issue, sent by NSBA leadership to President Joe Biden on Sept. 29, requested "federal assistance to stop threats and acts of violence against public schoolchildren, public school board members, and other public school district officials and educators."
After expressing concern about the increased "acts of malice, violence, and threats against public school officials," NSBA President Viola Garcia and Interim Executive Director and CEO Chip Slaven urged Biden to classify "these heinous actions" as "domestic terrorism and hate crimes."
In October, U.S. Attorney General Merrick Garland sent a memorandum directing the FBI to "convene meetings with federal, state, local, Tribal, and territorial leaders within 30 days" to "facilitate the discussion of strategies for addressing threats against school administrators, board members, teachers, and staff."
While the NSBA apologized for the letter three weeks after its publication and it has since taken it offline, outrage over the tone of the request still looms large.
In the weeks and months following the letter's publication, the number of state school board associations that have either distanced themselves from the NSBA letter or withdrawn from the organization entirely continues to grow.
The advocacy group Parents Defending Education, which vehemently opposes the rhetoric of the NSBA letter, has compiled a list of actions taken by state school board associations in response to the letter.
In the past three weeks alone, state school board associations in Alabama, Arkansas, Florida, Illinois, Mississippi and Virginia have voted to withdraw from the NSBA.
The school board associations in these states join their counterparts in Kentucky, Louisiana, Missouri, Montana, New Hampshire, New Jersey, North Carolina, Ohio, Pennsylvania, South Carolina, Tennessee and Wisconsin in announcing their departure from the NSBA immediately or in the near future.
Additionally, several additional states have distanced themselves from the rhetoric in the NSBA letter without formally withdrawing from the national organization. Most notably, the Delaware School Boards Association, based in the president's home state, issued a forceful response to an inquiry from Parents Defending Education.
"The DSBA disagrees, in the strongest possible terms, with parents and citizens protesting school board meetings being characterized as 'domestic terrorists' and their protests being likened to 'hate crimes," the organization said in a statement. "The DSBA firmly asserts that citizen and public engagement in school board meetings is an integral and vital aspect of school board governance. We also made it clear that any attempt to silence citizens' voices is a clear violation of their rights to free speech."
The DSBA also lamented that the NSBA did not consult with them before sending the letter, noting that had they done so, the state organization would "NOT have allowed the DSBA to be associated with the letter" and "would have asked that the language be changed to reflect the fact that the DSBA does not support the letter and should not be generally included in it."
The NSBA letter stated that it was sent "on behalf of our state associations and more than 90,000 school board members who govern our country's 14,000 local public school districts."
Nine other state school board associations responded to Parents Defending Education, expressing some degree of disagreement with the rhetoric of the NSBA letter or stressing a belief in the ability of parents to speak out about their children's education. Those states are Georgia, Idaho, Indiana, Iowa, New Jersey, North Dakota, Texas, West Virginia and Wyoming.
Hawaii is not part of the NSBA. An email obtained via public records request revealed the head of the Rhode Island Association of School Committees telling his board that he thinks they should ignore the email from Parents Defending Education.
The remaining state school board associations did not respond to the inquiry from the advocacy group.
The NSBA letter followed a summer defined by intense protests at school board meetings in some localities nationwide as parents and community members had expressed outrage about policies allowing trans-identified students to use bathrooms that correspond with their gender identity as opposed to their biological sex, the use of sexually explicit material in the curriculum and the incorporation critical race theory components into the curriculum.
Specific examples cited by the NSBA letter of "heinous actions" taken by parents speaking out at school board meetings include "anti-mask proponents [who] are inciting chaos during board meetings," confrontation of school board members by "angry mobs" that have "forced meetings to end abruptly" and a resident of Alabama who describes himself as "vaccine police" calling school administrators "while filming himself on Facebook Live."
Another occurrence cited as problematic in the letter was the mocking of a Tennessee student "during a board meeting for advocating masks in schools after testifying that his grandmother, who was an educator, died because of COVID-19."
Five days after the NSBA letter's publication, Garland wrote the memorandum directing federal law enforcement agencies to work with their counterparts at the local level to "facilitate the discussion of strategies for addressing threats." The move led to further criticism and a lawsuit.
Opposition to critical race theory and sexually explicit material in public schools played a significant part in last month's off-year elections.
In last month's election, candidates who campaigned in opposition to critical race theory performed well in school board races.
At the same time, Virginia's Democratic gubernatorial nominee Terry McAuliffe, who proclaimed in a debate with his Republican opponent, Glenn Youngkin, that "I don't think parents should be telling schools what they should teach," lost the election. A recent poll from the Becket Fund for Religious Liberty found that 63% of Americans think parents should have the "final say" in what children are taught at school.
Ryan Foley is a reporter for The Christian Post. He can be reached at: ryan.foley@christianpost.com
https://www.christianpost.com/news/18-state-orgs-quit-national-school-board-group-over-biden-letter.html
---
Whistleblowing middle school teacher warns
JOSHUA KLEIN 14 Nov 2021
A whistleblowing middle school teacher says she faces a "culture of intimidation" after being forbidden to teach — despite a shortage in teachers — due to her exposing her school district's "radicalized" critical race theory (CRT) curriculum, which is manifest "absolutely everywhere" throughout the school's culture as well as its reading materials. She warned it was causing "great harm and racial divide and hostility between children" and that the country will soon be unrecognizable if it is not stopped.
Ramona Bessinger, a Providence, Rhode Island, veteran English teacher described in July how her school district's "radicalized curriculum" actually "created racial tensions among students and staff where none existed before."
Joining Steve Malzberg on his Eat the Press weekly commentary show this past week, she said the school's previous curriculum had "lots of diversity [and] lots of multicultural materials" as opposed to the new "radicalized" one, which sees CRT implicit throughout.
"We're not teaching critical race theory. It's implicit in the culture. It is implicit in all the reading materials. It is implicit in all the projects that the kids are doing," she said.
"It is causing great harm and racial divide and hostility between children and it really has to stop," she added.
While Bessinger agreed there was no official session dedicated to CRT education — which allows the school to deny it is being taught — she noted that the situation is even more dire, with CRT permeating the entire curriculum.
"It's in the plot narratives; it's in the characterization; it's in the imagery," she said. "It's in the art projects, the history class, the English classes."
"It is in the language that we are told to use in our professional development," she added. "It is absolutely everywhere."
She also described the drastic "shift" taking place which sees an entire overhaul of the school's education materials.
"Just to speak to the fact that our libraries are being dismantled and books are being moved into archaic basement rooms around the school or flat-out thrown out," she said. "So there's a whole shift taking place and we really need to pay attention to this."
Bessinger, who describes herself as "wanted by the Department of Justice for teaching children how to read, write and think for themselves," denied the notion that opposition to CRT being taught in schools implied one did not wish true history to be taught in the classroom.
"I've been teaching for 23 years now and … I've never ever seen anybody who is a teacher and kind and compassionate, teaching anything other than the entire truth — our entire diverse multicultural history," she said, adding that the previous curriculum materials were "filled with all kinds of diverse materials."
"So to suggest that we were not teaching a diverse curriculum is a lie, a flat out lie," she added.
She also described her experience after having protested the new materials.
"It was sometime last January I noticed that the books and textbooks and materials were all like, I couldn't recognize them," she said. "I noticed also that huge chunks of our curriculum materials were removed, like the Holocaust for example — we were no longer teaching the Holocaust — so there was cause for alarm early on."
"By the end of the school year I decided I had to write about this and tell the story because to erase our past, to eliminate our past — I could see a pattern occurring that somehow our culture and our history and our narrative as Americans was changing and that alarmed me and scared me," she added.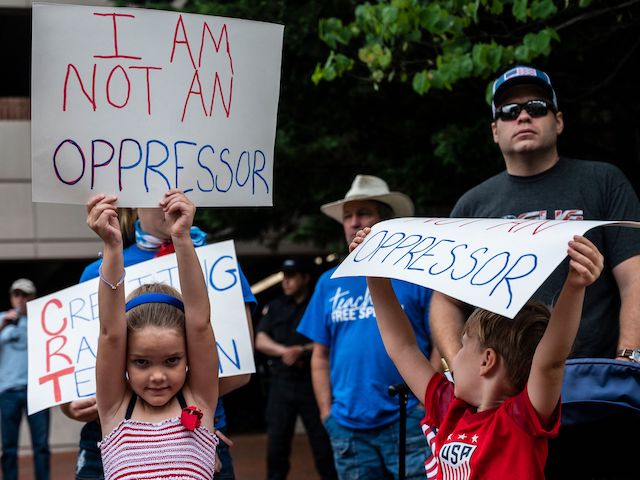 People hold up signs during a rally against "critical race theory" (CRT) being taught in schools at the Loudoun County Government center in Leesburg, Virginia, on June 12, 2021. (Photo by ANDREW CABALLERO-REYNOLDS/AFP via Getty Images)
Following her return to school after writing about the issue, Bessinger described the "intimidation" and "bullying" she encountered as a result of speaking out:
When I returned back to school in September several of my colleagues were quite hostile towards me, not everyone — many people reached out to me in private in support — but you have to understand there's a culture of intimidation, bullying and harassment if you dare speak out against this regime or against this network of educators coming from the federal government on down.
When the intimidation didn't work, Bessinger claimed critics of hers "upped the ante" by involving school children in the matter.
"Once they turn children against you and kids start believing this narrative that you are somehow racist, then it's over," she said.
"And that was probably the moment in time when I wrote to my administration to say there's a great deal of hostility occurring at my school," she added, "and rather than mitigate the situation they moved me to another location and basically removed me from all my teaching duties."
Bessinger then detailed the repercussions educators who speak out against CRT undergo.
"I'm being paid for not teaching while there's a teaching shortage," she said.
"And as an expert being a reading and writing teacher, I think it's important that the taxpayers need to know that this is happening to anyone who goes against this regime or this whole sort of political agenda," she added.
Stating her refusal to resign as a result, she described the importance of doing what's right and letting the world know the truth of what's occurring in schools.
"I'm going to stay and do what I feel is right for my own children, for the students, and ultimately for the country," she said. "Because what is happening currently is wrong and it needs to be exposed and the world needs to know."
Bessinger concluded by warning that the country would be unrecognizable if schools continue to change from within without any resistance.
"I'm going to fight this," she said. "Yes, I'm not going to allow them to win."
"Because if they do win … I don't believe we're going to recognize our country if this is allowed to take place because the culture is changing from within our schools and it's changing rapidly."
The battle over CRT in schools has resulted in nationwide tension in recent months.
People hold up signs during a rally against "critical race theory" (CRT) being taught in schools at the Loudoun County Government center in Leesburg, Virginia, on June 12, 2021. (Photo by ANDREW CABALLERO-REYNOLDS/AFP via Getty Images)
The theory, which is promoted by many on the left, claims that American institutions — the government, economy, and culture — are based on racial hierarchy and aim at maintaining the dominance of white people, and even that which appears race-neutral is, on closer inspection, rooted in racism.
As a result, it urges reform in virtually all of the country's institutions.
The theory's architects have argued that the U.S. was founded on theft of land and labor, with federal law maintaining the unequal treatment of citizens by their race.
CRT advocates have also expressed the belief that race is culturally invented, not biological.
Last week, Professor Kimberlé Crenshaw, a CRT co-founder, called for youth to "understand the ground upon which we stand is ground that's soaked in blood of theft," while warning of the outcome if the "other side gets its way," declaring "the road to authoritarianism will be paved through white supremacy."
Earlier this month, a Science, Technology, Engineering, Math (STEM) educator and administrator in the largest school district in Indiana addressed parents in a video in which he asserted when school officials say they are not teaching CRT, "we're lying."
In June, a former Democrat congressional candidate called on Americans to listen to black parents who oppose CRT "indoctrination" in schools, while calling on black Americans to reject the Democrat Party's race narrative and, instead, realize "that their skin color is not a barrier to their progress," adding that Democrats use race to galvanize black electorate support though many black Americans actually "have conservative ideals."
Follow Joshua Klein on Twitter @JoshuaKlein.
https://www.breitbart.com/the-media/2021/11/14/whistleblower-teacher-warns-crt-absolutely-everywhere-schools-soon-we-wont-recognize-country/
---
FBI whistleblower reveals agency created 'threat tag' to track alleged harassment of education officials
Republicans charge memo shows FBI crackdown on parents
By Jessica Chasmar | Fox News
The Federal Bureau of Investigation has created a "threat tag" to aid in tracking alleged threats against school board officials, teachers and staff, as part of its implementation of a controversial memo issued by Attorney General Merrick Garland last month citing a nationwide increase in harassment of education officials.
An Oct. 20 internal email from the FBI's criminal and counterterrorism divisions, released Tuesday by House Republicans, instructed agents to apply the threat tag "EDUOFFICIALS" to all investigations and assessments of threats directed specifically at education officials.
HOUSE REPUBLICANS PRESSURE DOJ FOR INFO ON SCHOOL BOARD MEMO: 'PRETEXT TO SILENCE PARENTS'
"The purpose of the threat tag is to help scope this threat on a national level, and provide an opportunity for comprehensive analysis of the threat picture for effective engagement with law enforcement partners at all levels," the email stated.
The email also directs FBI agents to consider whether the criminal activity being investigated is in violation of federal law and what the potential "motivation" is behind it.
"Merrick Garland testified that the FBI wasn't targeting parents," Republican Rep. Jim Jordan of Ohio, ranking member of the House Committee on the Judiciary, tweeted Tuesday afternoon. "We now know the FBI is 'tagging' parents they consider threatening. The Attorney General has some explaining to do."
"If this is accurate, parents are getting the domestic-terrorist treatment after all," Sen. Josh Hawley, R-Ohio, tweeted.
The FBI released released two statements to Fox News on Tuesday saying it is committed to preserving the First Amendment, and that the creation of a threat tag "in no way changes the long-standing requirements for opening an investigation, nor does it represent a shift in how the FBI prioritizes threats."
"The Attorney General's memorandum simply underscores the FBI's ongoing efforts to assist state, local, and federal partners to address threats of violence, regardless of the motivation," it said. "The FBI has never been in the business of investigating parents who speak out or policing speech at school board meetings, and we are not going to start now."
Garland's Oct. 4 memo directed the FBI and U.S. attorney's offices to investigate "threats of violence" at school board meetings in order to combat what the Department of Justice (DOJ) called a "disturbing trend" of harassment of school officials.
Republicans have warned that the directive is a pretext to silence parents across the country, though Garland insisted before the Senate Judiciary Committee earlier this month that is not the case.
https://www.foxnews.com/politics/fbi-whistleblower-threat-tag-harassment-education-officials
---
Critical Race Trove From California District Tells Students How To Use Witchcraft On People Who Say 'All Lives Matter'
Critical race theory has been fully institutionalized at the California high school district that tried to reeducate me six years ago when I first pushed back.
By Spencer Lindquist DECEMBER 6, 2021
While documenting my former high school's attempt to indoctrinate me with critical race theory six years ago, I remarked that now, several years later, "the situation has undoubtedly worsened." Worsened it has. Now, Campbell Union High School District has promoted more than 100 "equity resources" to students and staff, including a document that taught students how to put a curse on those who say "all lives matter."
Colorblindness, Cops, and Curses
The page serves as a vast library for CRT resources and features 60 different links, including a Google Drive folder with 45 different documents. The list made sure to include the full range of CRT buzzwords, with links like Raising Race Conscious Children, the infamous 1619 Project, Anti-Racism for Beginners, and Social Identities and Systems of Oppression, among others.
One link takes you to an "Anti-Racism Resource List," which teaches about "white fragility" and claims that racism can only be perpetrated by white people. One of the "resources" provided was a Trevor Noah speech labeled "Why rioting makes sense," followed by an unhinged anti-white rant from Sonya Renee Taylor, demanding that white people "throw your white body" on police officers and "put their bodies on the line for the purpose of justice."
The list also addresses white people when it says, "We are socialized into white supremacy from the moment we are born" before going on to say "It is about completely dismantling how you see yourself and how you see the world, so that you can dismantle … white supremacy."
Samuel Martin graduated from CUHSD's Branham High School in 2019 and was appalled by the district's actions. He told The Federalist, "The idea that white students must 'dismantle themselves' in the context of their personality is cultish. Not only is it cultish, but it is deliberate in that this school system wants its' white students to hate themselves. Do these people honestly think that drilling racial identitarianism into childrens' heads from a young age is going to make them less racist?"
CUHSD also links to the Black Lives Matter Resource Guide, specifically their section labeled "high school," which itself includes 45 different texts. Amid a wide variety of CRT inspired assignments is a document that includes writing prompts on police brutality and racist violence.
One section titled "Hex" tells the reader, "Hexing people is an important way to get out anger and frustration." It becomes increasingly deranged, suggesting that those who say "all lives matter" or commit "microaggressions," should be targeted. "Write your own hex poem, cursing that person," it instructs.
When asked her thoughts on the document that instructed K-12 students to use witchcraft on political opponents, Branham teacher Meredith Allen told The Federalist she hasn't read the documents her district recommends, so she "can't comment," but that she is generally "opposed to the 'all lives matter' message."
Another section labeled "A World With No Police" cites police and military as "systems or institutions that … contribute to oppression." It asks "What would the world be like without them?" before telling the reader to write a poem discussing "a world without these institutions."
"The Black Radical Tradition," is a 565-page e-book that includes articles from the Communist League and Noel Ignatiev under the pen name Noel Ignatin. Ignatiev was a Marxist who argued that "abolishing the white race is … so desirable that some may find it hard to believe that it could incur any opposition other than from committed white supremacists."
Then there's a slide show entitled "What is the Black Lives Matter Movement?" which is made for children and was produced in part by teachers at LAUSD. It includes a glossary of terms like "white supremacy," the definition of which includes the line, "systems, like schools and jails, have white supremacy built into them because white people have had so much power for so long."
The ADL's linked document "George Floyd, Racism, and Law Enforcement" defines racism as "the … oppression of people of color based on a socially constructed racial hierarchy that privileges white people," a definition that reinforces the malicious lie that white people can't be the victims of anti-white racism.
Another ADL resource condemns colorblindness and provides carefully crafted methods to indoctrinate white students with the idea that they have privilege without incurring backlash while a "Racial Equity Resource Guide" advertises the White Privilege Conference.
Top-Down Pushing Critical Race Theory On Students
The district's equity resources page is just the most visible result of a series of steps in support of CRT that started long ago. In fact, the district was a testing ground for CRT before it spread throughout the nation. The book "Research Studies on Educating for Diversity and Social Justice" was published in 2018 and describes the process. An entire chapter, written in part by my former teacher, is dedicated to discussing how CRT was used at my high school so it could be replicated.
The book noted the use of the theory, saying, "CRT is used here to centralize the discussion of race and racism at Branham High School." It went on to describe an "equity advisory" class that I was placed in as a sophomore, where "Students learn about the different types of oppression along with the privilege it affords the oppressors." The authors hoped their tactics would spread, writing, "the intent behind sharing the process Branham underwent is to provide a model that could be followed by other schools across the nation."
The district's Board of Trustees supports this agenda, recently offering unanimous support for a resolution resolving to "dismantle institutionalized racism in our society and our school district" and is "committed to … implicit bias training, Ethnic Studies, and resources that foster dialogue around the guiding principles of #BlackLivesMatter."
Note the district's adoption of the term "equity" rather than "equality." Here's superintendent Robert Bravo two hours and 39 minutes into a board meeting saying he believes "equity is about equity of outcomes."
CUHSD even established an Anti-Racism Team, which is divided into eight Equity Teams that include teachers, principals, administrators, and even two students who must be "BIPOC." That means white students are banned from the "Equity" Teams. They're tasked with "challenging imbalances of power and privilege," among other roles.
Michael Espinoza is a member of one such Equity Team and a teacher at Branham High School who won the district's teacher of the year award. Here he is calling a Native American tribe the "rightful stewards of the lands our schools and district offices stand on" and telling teachers to recognize "the power of critical race theory and use it in our lesson plans."
He also gave a speech to the class of 2021, where he levied leftwing complaints against America and quoted Huey Newton, imploring students to engage in revolution instead of "conforming to the machine that is the United States." On his Instagram account, Espinoza celebrates mandates for ethnic studies classes and complains of living under "white supremacist, heteropatriarchal rule" in a plea to his "co-conspirators."
If this is CUHSD's model teacher, what does their model student look like? Espinoza's students created a variety of leftwing posters in his ethnic literature class. One poster demanded "Dear White PPL: Start Listening, Stop Talking" and others that said "Wear UR F-cking Mask" and "Give us back our land." Principal Lawton took down the posters amid outcry before caving in and apologizing to the leftwing agitators.
Co-Conspirators? Or A Conservative Counter Culture?
The full ramifications of our education system's descent into leftwing radicalism is yet to be fully realized, although we can be certain that many of the students it doesn't lose to homeschooling will be successfully transformed into "co-conspirators." But as the rhetoric of revolution becomes standard for stodgy school administrators, its appeal to youth might wane.
Conversely, they run the risk of creating a small but clever cadre of conservative youth who understand from firsthand childhood experiences the consequences of toxic racial grievance politics. Don't be surprised if the propagandizers who intend to give permanency to left-wing hegemony instead give rise to a nascent conservative political force that will uproot it.
Spencer Lindquist is an intern at the Federalist and a senior at Pepperdine University where he studies Political Science and Rhetoric and Leadership and serves as Pepperdine's College Republicans President. You can follow him on Twitter @SpencerLndqst and reach him at LSpencerLindquist@gmail.com
Former High-Ranking FBI Agents Issue Warning About Garland School Board Memo
By ProTrumpNews Staff December 10, 2021
Attorney General Merrick Garland labeled parents who were speaking out against Critical Race Theory "domestic terrorists" in a letter that was sent to the FBI.
The National School Board Association (NSBA) coordinated with the Biden White House weeks before AG Merrick Garland classified parents "domestic terrorists" in a letter to the FBI.

As previously reported, the NSBA begged Biden to use federal law enforcement agencies against parents and investigate them for "domestic terrorism and hate crime threats." They shamelessly claim the situation is so dire that he should use the Patriot Act, among other "enforceable actions" against them.

TRENDING: Former Georgia Senator and Governor Candidate David Perdue Says He Wouldn't Have Certified Georgia's 2020 Election Results

Merrick Garland is targeting parents who dare speak out against Critical Race Theory (CRT) because his son-in-law makes millions off of selling the Marxist literature across the country.
Adam Lee and Bill Corbett, two former FBI agents, are now warning about the dangers of the memo.
According to Lee, "it is a scary prospect" that the capabilities of the PATRIOT Act were being turned on United States citizens.
High-ranking FBI alumni are sounding the alarm on a memo from Attorney General Merrick Garland highlighting a purportedly "disturbing spike in harassment, intimidation, and threats of violence" against schools and school officials, from parents. According to these former officials, the memo represents an unwelcome politicization of the bureau's mission, and may portend further consequences down the line.

…

Adam Lee is a former special agent in charge of the FBI's Richmond division and national executive for the FBI's public-corruption and civil-rights programs. He oversaw the FBI's involvement in the Unite the Right Rally in Charlottesville, Va., in 2017 and even interviewed with former president Donald Trump to replace James Comey as director of the FBI.

Lee called the memo "pretty rare," in an interview with National Review, noting that in his long tenure at the Bureau, he only saw a couple of items like it. Of even more concern to Lee was the fact that "the only way that [the memo] is hitting FBI jurisdiction at all is under the rubric of domestic terrorism." According to Lee, the bureau's domestic-terrorism program, which is held within its counterrorism division, includes resources and permission structures that he'd be concerned to see brought to bear against Americans.

"The counterterrorism division's incredible capabilities were built to target foreign terrorist organizations under Title 50, which is all the PATRIOT Act enabling statutes. It is a juggernaut and has saved countless American lives," explained Lee.
Corbett echoed the concerns of Lee and also added "It turns out that was sort of an empty, politically-loaded claim" and called it a "black eye" for Garland's DOJ.
Senator Josh Hawley called for Garland to resign over the memo saying Garland "mobilized the FBI to intimidate parents."
---
---
Related