UPDATE: TD Bank Freezes Canadian Freedom Convoy Charitable Accounts: Withholds $1.1M for Trucker Protest
Tucker Carlson, The Government Need for Control is a Reaction to Their Fear
February 12, 2022 | Sundance
Tucker Carlson used his segment on the Canadian Freedom Protests Friday night to emphasize a point we have made for many years. The government need to control the truckers in Canada is a reaction to fear.
The administration of Justin Trudeau and also Joe Biden are fearful of the working class people the truckers represent. Those who consider themselves elite are the few, we are the many. Those who live atop society, in politics or positions of influence and affluence, are becoming increasingly fearful.
Recent references are not limited to COVID lockdowns and arbitrary totalitarian rules put into place. The way the government responded to the "yellow vest" movement in France; or the U.K. government efforts to fight Brexit; or the U.S. government response to Donald Trump's election; these are all examples of those holding power being fearful of the us – a free people. The elites are fearful, and they will lose. WATCH:
Canadian Police Clearing Ambassador Bridge Truck Blockade and Freedom Protest, Tow Trucks from Michigan Sent to Assist
February 12, 2022 | Sundance
Tow trucks from Michigan have been sent to assist Ontario police and Canadian federal law enforcement to remove the Freedom Protestors and truckers from the Ambassador bridge at the border crossing between Canada and the U.S.A.
Yesterday, Canadian Prime Minister Justin Trudeau and U.S. President Joe Biden held a phone call to discuss the collaboration of U.S. and Canadian federal law enforcement as well as joint intelligence agencies to remove any blockades at the border crossing points. Michigan Governor Gretchen Whitmer also told media she would assist the Canadian government effort.
As local, regional and federal law enforcement on both sides of the border begin to confront the blockades, it appears they are sharing resources. Previously, Canadian tow trucks refused to cooperate against their own citizens in protest. It appears that Michigan tow trucks are willing to do the dirty work. However, the initial tow companies pictured can only move regular passenger vehicles and pick-up trucks, like those driven by supporters of the truckers.
Police arrived shortly after dawn this morning to clear the protest group who spent the night at the busiest crossing between the United States and Canada and enforce a court order issued yesterday. "The Windsor Police & its policing partners have commenced enforcement at and near the Ambassador Bridge. We urge all demonstrators to act lawfully & peacefully. Commuters are still being asked to avoid the areas affected by the demonstrations at this time," police tweeted.
Global News journalists reported, "police in black uniforms with yellow vests were seen moving behind the protesters' cars on the bridge. Tactical teams and snipers were also present." CTV News Windsor's Michelle Maluske reported from the scene that some protesters had begun to pack up and leave ahead of police moving in to enforce a court injunction, while others remain defiant in the face of fines and jail time.
CANADA – Police have moved in to break up a days-long protest at the Ambassador Bridge in Windsor, Ont., where vehicles have been blocking traffic on the crucial border crossing into the U.S.
"We urge all demonstrators to act lawfully and peacefully," Windsor police said in a tweet as officers started to move in with other law enforcement at about 8:30 a.m. on Saturday.
They also advised people to stay away from the area.
While some protesters left immediately, a handful remained as of 10 a.m. Police formed a line and were steadily pushing back the demonstrators, some of whom were shouting "shame," "freedom" and "you're on the wrong side." (read more)
New Zealand's Covid Cops Fail to Disperse Freedom Convoy with 80s Music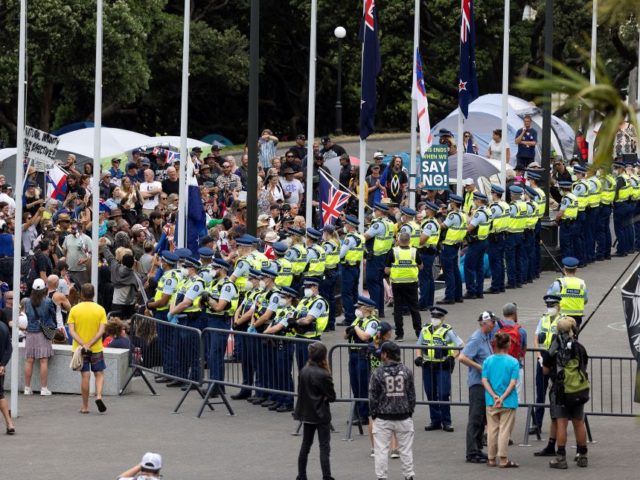 NATHANIEL CHARLES 12 Feb 2022
New Zealand's freedom convoy has maintained its position outside the Parliament on Saturday despite varying police efforts to disperse them, including blasting the Macarena on loop, arrests, and even turning the garden sprinklers on.
After failing to deter a freedom convoy by attempting to arrest around 120 people on Thursday, New Zealand's police officers have attempted to remove the protest of up to 1,500 people protest that has been in place in the Parliament's grounds since Tuesday, with less orthodox police tactics.
Reports have emerged that the NZ authorities attempted to remove protestors by blasting them with pro-vaccine propaganda and also 80s and 90s classics such as the Macarena and Barry Manilow songs on repeat.
Protesters however responded by dancing to the music and blaring back their own songs such as the Twister Sister's We're Not Gonna Take It, according to a report from The Telegraph.
Authorities also tried to shift the protesters – some of whom are camping within the Wellington Parliament's grounds – by turning on the parliament lawn's sprinklers, but protesters dug trenches and assembled plastic tubing to drain the water from the area and prevent it from affecting the campsite.
Wellington's police have been forced to take a more relaxed approach with the protestors after footage went viral of them dragging a naked lady out of the protest by her hair on Thursday, which triggered widespread condemnation of the police.
The extreme police tactics reinvigorated the protest – as numbers on Thursday had dropped to around 200 from an initial thousand on the first day of the protest – with 1,500 people arriving to support the freedom convoy on Friday.
Despite Prime Minister Jacinda Ardern initially supporting the protest, saying, "People often protest on the front lawn of Parliament. It is part of New Zealand" — authorities quickly shifted their stance and declared that the protestors are in fact trespassing.
Convoy participants have challenged this order, questioning how they can trespass on public property, saying it belongs to the people as it had been paid for by the "blood of our forefathers on the battlefield" and "our taxes".
Protestors, including those using their vehicles to block the roads around the Parliament, have committed to staying in place "as long as it takes" for the government to repeal coronavirus restrictions such as obligatory masks for children in schools and vaccine mandates for certain jobs such as healthcare workers.
https://www.breitbart.com/europe/2022/02/12/new-zealands-covid-cops-fail-to-disperse-freedom-convoy-with-80s-music-and-vax-propaganda/
French Police Block 500 'Freedom Convoy' Vehicles From Entering Paris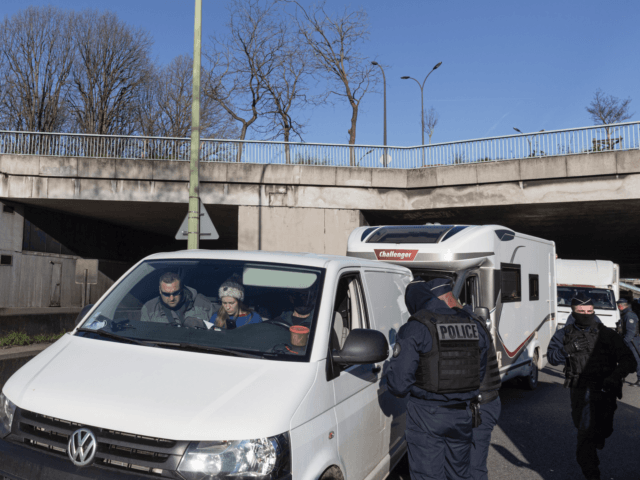 BREITBART LONDON 12 Feb 2022
PARIS (AP) – Paris police intercepted at least 500 vehicles attempting to enter the French capital Saturday, in defiance of a police order, to take part in protests against virus restrictions.
The police said on Twitter that several convoys were stopped from entering at key city arteries and over 200 motorists were handed tickets.
Elsewhere, at least two protesters were detained amid a seizure of knives, hammers and other objects in one central Parisian square.
Some 7,000 officers have been mobilized for the weekend protests. Police have created checkpoints, deployed armored personnel carriers and set up water cannons to brace the city for the protests. So far, the police blockade action has seemed effective.
Railing against the vaccination pass that France requires to enter restaurants and many other venues, protesters have tried to weave toward Paris from north, south, east and west, waving and honking at onlookers from their car windows. Some convoys sought to avoid police detection Friday by traveling local roads instead of the major highways leading into the capital.
Waving French flags and shouting "freedom," the protesters organized online, galvanized in part by truckers who have blockaded Canada's capital and blocked border crossings. The French action has no single leader or goal, and comes as months of protests against French government vaccination rules have been waning.
It's not just in France that such protests are brewing. Dozens of trucks and other vehicles, from tractors to a car towing a caravan arrived in The Hague Saturday morning as part of a "freedom convoy," blocking an entrance to the historic parliamentary complex.
A group of protesters joined the truckers carrying a banner emblazoned with the Dutch words "Love & freedom, no dictatorship."
Police urged the protesters to move to a park, where the municipality said they could demonstrate, and warned the public about traffic problems in the city.
https://www.breitbart.com/europe/2022/02/12/french-police-block-500-freedom-convoy-vehicles-frome-entering-paris/
Live at #AmbassadorBridgeBlockade
https://mobile.twitter.com/i/broadcasts/1rmxPgRRyadJN
#IStandWithTheTruckersFreedomConvoy
https://gab.com/13TheThe/posts/107787131838387319
WELCOME TO THE NETHERLANDS – Now a police state
https://tv.gab.com/channel/white__rabbit/view/welcome-to-the-netherlands-now-6182401e0e65e114101c903b
DON'T STOP NOW! They're PANICKED Over Freedom Convoy | Monologue | Huckabee
Vaccine-Injured Respiratory Therapist Has MAJOR Regrets
https://www.brighteon.com/5586f2b0-0706-4e34-86fb-3f0179ded264
Surgical, cloth and N95 masks are useless against COVID-19
TD Bank Freezes Canadian Freedom Convoy Charitable Accounts: Withholds $1.1M for Trucker Protest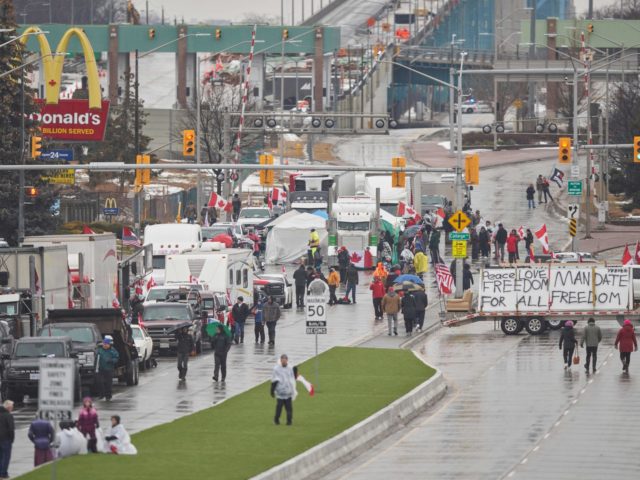 SIMON KENT 13 Feb 2022
Toronto-Dominion (TD) Bank froze two personal bank accounts, one of which included $1.1 million, paid into them destined to support trucker protests gathering under the Canadian Freedom Convoy banner, Reuters reported.
The decision to freeze the money before distribution to the anti-vaccine mandate protesters was confirmed by a spokesperson for the bank in a statement seen by the outlet.
The move came after TD applied to the Ontario Superior Court of Justice this week about taking funds sent through bank transfers and GoFundMe and giving them to the intended recipients or returning them to the donors "who have requested refunds but whose entitlement to a refund cannot be determined by TD."
Christian-owned GiveSendGo later stepped in to fill the void left by GoFundMe's departure.
Reuters reported one bank account received C$1 million through GoFundMe and the rest was sent to a second account through a variety of bank transfers. The spokesperson said TD is unsure of where the GoFundMe payment originated.
Sen. Ted Cruz (R-TX) has since asked the Federal Trade Commission (FTC) to launch an investigation into GoFundMe and its actions.
In an email to Reuters, Keith Wilson, an attorney for the convoy, said TD has been put "on notice that their actions are improper and disappointing."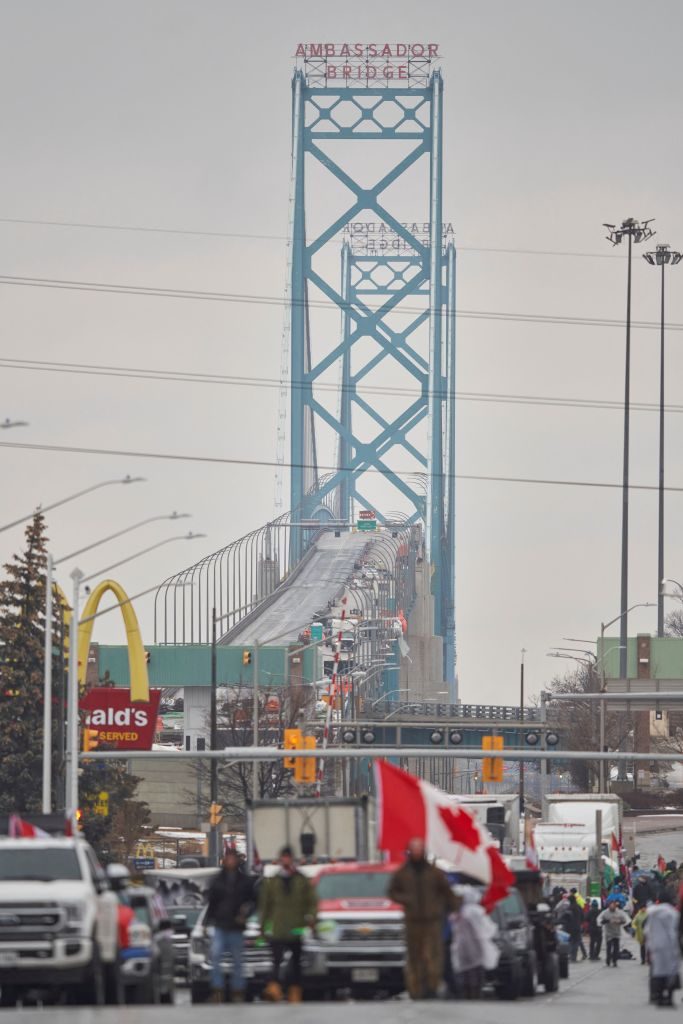 Anti-vaccine mandate protesters block the roadway at the Ambassador Bridge border crossing in Windsor, Ontario, on February 11, 2022. (GEOFF ROBINS/AFP via Getty Images)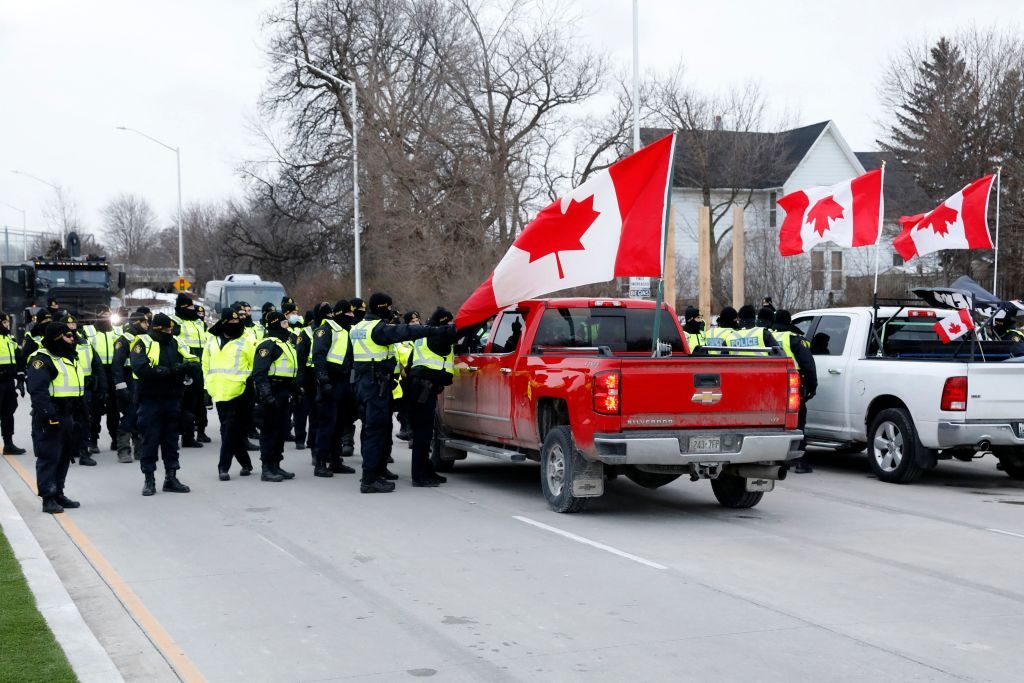 Police surround pickup trucks as they clear protesters against Covid-19 vaccine mandates who blocked the entrance to the Ambassador Bridge in Windsor, Ontario, Canada, on February 13, 2022. (JEFF KOWALSKY/AFP via Getty Images)
GoFundMe faced immense criticism earlier this month after the company decided to pause the fundraising page for the convoy after it surpassed $10 million, as Breitbart News reported.
A lawyer for the Freedom Convoy sent an email to Reuters outlining TD has been put "on notice that their actions are improper and disappointing." The email, written by Keith Wilson, also said the convoy will seek a court order to release the money raised to a new not-for-profit corporation.
https://www.breitbart.com/politics/2022/02/13/td-bank-freezes-canadian-freedom-convoy-accounts-withholds-1-1m-for-trucker-protest/
---
Related
https://www.breitbart.com/news/defiant-protesters-remain-at-key-us-canada-border-crossing/
https://www.breitbart.com/politics/2022/02/11/nolte-truck-drivers-are-the-atlas-that-finally-shrugged/
https://www.breitbart.com/clips/2022/02/12/trump-on-freedom-convoy-mandates-are-very-very-bad-you-can-push-people-so-far/
https://www.breitbart.com/news/blockades-on-canada-us-border-continue-as-protests-swell/
https://www.breitbart.com/health/2022/02/13/citizens-protest-canadian-trucker-vaccine-mandates-in-buffalo-the-world-is-paying-attention/
https://www.breitbart.com/europe/2022/02/12/watch-police-break-windows-beat-protesters-as-freedom-convoy-bursts-into-paris/
https://www.breitbart.com/politics/2022/02/13/freedom-convoy-macron-accused-of-campaigning-with-armoured-vehicles-as-nearly-100-protesters-arrested/
https://www.breitbart.com/clips/2022/02/12/exclusive-video-freedom-convoy-trucker-were-here-because-were-not-free-anymore/
https://www.theguardian.com/australia-news/2022/feb/12/scott-morrison-says-he-understands-canberra-antivax-protesters-amid-clashes-with-police
https://www.dailymail.co.uk/news/article-10506105/Ottawa-protesters-speak-demonstrations-capital-city-enter-week.html
https://jdrucker.substack.com/p/exclusive-dr-li-meng-yan-reveals