Former Flight Attendant Awarded $5M After Being Fired For Abortion Stance
By ProTrumpNews Staff July 16, 2022
Back in 2017, Southwest airlines fired flight attendant Charlene Carter after she posted about abortion on social media.
Carter criticized her union's President, Audrey Stone, for attending the Women's March in Washington, D.C. – The Women's March received funding from Planned Parenthood.
Carter posted on Facebook at the time:
"This is what you supported during your paid leave with others at the Women's March in D.C.," Carter wrote in one Facebook message to Stone, according to the lawsuit. "… You truly are despicable in so many ways."
TRENDING: Biden Was Fed Pills to Function During Campaign, Supervised by Dr. Jill; Before Dosing Biden Was 'Like a Small Child': Tucker Carlson Source
She sued and has now won. She was awarded $5 million from a federal jury in Texas.
Carter celebrated the ruling calling it "a victory for freedom of speech and religious beliefs."
A federal jury in Texas has awarded a former Southwest flight attendant more than $5 million after the airline fired her over her stance on abortion in a lawsuit dating back to 2017.

The reward in combined compensatory and punitive damages comes after the Transportation Workers Union of America (TWU) Local 556 union and Southwest fired Charlene Carter for her religious stance on abortion, which she publicized on social media.

"Today is a victory for freedom of speech and religious beliefs. Flight attendants should have a voice and nobody should be able to retaliate against a flight attendant for engaging in protected speech against her union," Carter told FOX Business in a Friday statement. "I am so humbled and thankful for today's decision and for everyone who's supported me these past five years, including the National Right to Work Foundation."
Another loss for woke companies!
Conservative Legal Group Sues Dick's Sporting Goods Over New Abortion-Supporting Policy, "Racial Quotas"
By ProTrumpNews Staff July 16, 2022
In the wake of the ruling on Roe v. Wade DICK's Sporting Goods announced a new policy in which they would pay up to $4,000 in travel expenses for employees seeking abortions.
DICK'S Sporting Goods CEO Lauren Hobart sent out this memo after the ruling.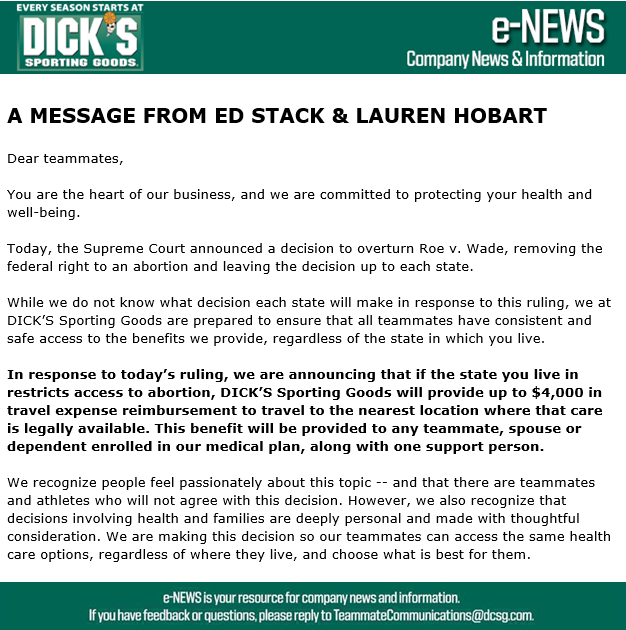 A Conservative legal group is now taking them on.
TRENDING: Biden Was Fed Pills to Function During Campaign, Supervised by Dr. Jill; Before Dosing Biden Was 'Like a Small Child': Tucker Carlson Source
America First Legal has announced they are suing them over the abortion policy. They are also targeting them for adopting "explicit racial quotas."
Today, as part of its initiative under the AFL Center for Legal Equality, America First Legal (AFL) asked the U.S. Equal Employment Opportunity Commission (EEOC) to open a civil rights investigation of DICK'S Sporting Goods, Inc. for multiple violations of Title VII of the Civil Rights Act of 1964, as amended by the Pregnancy Discrimination Act of 1978.

Following the Dobbs decision, DICK'S announced a special employment benefit of "up to $4,000" in travel reimbursement for a employee, spouse, or dependent, along with one support person, to obtain an abortion. Although Title VII prohibits discrimination based on childbirth, DICK'S does not offer an equivalent paid benefit to a mother who has her baby.

…

Title VII also prohibits discrimination because of race, color, national origin, or sex. However, DICK'S uses quotas in its workforce, and is specifically recruiting, hiring, and/or promoting workers because of race, color, national origin, or sex. Such conduct is patently illegal.
According to America First Legal, DICK's Sporting Goods is "recruiting, hiring, and/or promoting workers because of race, color, national origin, or sex."
In addition to the abortion complaint, America First Legal claims that, as stated in the company's official documents, Dick's is "specifically recruiting, hiring, and/or promoting workers because of race, color, national origin, or sex."

According to their website, the retail company has set goals to "increase BIPOC representation in leadership roles by 30% by 2025," and "increase overall representation of women in store leadership to 40% by 2025." They also hope to "achieve 50% BIPOC and/or women for entry-level hires for technology roles by 2025."
Woke companies are facing more backlash!
Alveda King: Pray for Justice, Truth and Life
By Alveda King | April 7, 2022
(Photo by L. Willinger/FPG/Archive Photos/Getty Images)
Today, I encourage the bold and the brave to wake up and use the voices God has given us to bring attention to injustices unfolding before our very eyes. Right now in America, there is an understandable controversy surrounding the appointment of a new Supreme Court Justice. The "chosen" candidate — poised to take the seat — is pro-abortion and to date, has failed to define the state of womanhood.
Added to this dilemma, in early April, America was horrified to see a report on the mutilated bodies of unborn babies — macabre trophies, some of which were fully formed and possibly killed after birth — which were being stored in a Washington, D.C. apartment.
As if this is not enough to curl our toes, Colorado Gov. Jared Polis also just signed into law one of the most radical pro-abortion bills in the history of our country. The bill, which is deceptively titled the "Reproductive Health Equity Act," actually declares that unborn babies in the womb have no human rights whatsoever and instead enshrines a "fundamental right" to abortion in state law, all the way up to the point of birth. As if nobody understands abortion is not health care. Abortion is death care.

All three situations are stark reminders to Americans everywhere of the abortion industry's extreme radicalism. Their demands have grown more and more outrageous as time goes on, even to the point of defending the most sickening of discoveries in the name of "women's rights." Unfortunately, their pro-abortion extremism shows no signs of stopping, and there is no depravity that they will not defend.

This bill, appointment of pro-abortion justices, and the dishonored and often dismembered bodies of babies are vile injustices and abortion remains one of the greatest stains on America's soul.
As science continues to accumulate in support of the pro-life cause, we also remember the truths that were written long before the invention of the microscope or the ultra-scan machine: "Before I formed you in the womb I knew you; before you were born I set you apart," says the Lord.

As God's voice in the earth today, we are called to use our resources to protect the least among us. One stroke of Gov. Polis' pen has sealed the fate of thousands — even hundreds of thousands — of unborn lives, all one blood one human race, all of whom are unique individuals formed by our Creator in God's own image and likeness.

However, all is not lost. We are winning this fight, and there is light at the end of the tunnel.
Pregnancy resource centers are trumping abortion mills. In Oklahoma, an abortion ban has passed both chambers of the state legislature and is headed to Gov. Stitt's desk for his signature [ it was signed]. In Mississippi, the Dobbs case is gaining momentum [ the Supreme Court upheld Dobbs ]. And in Texas, Florida, and around the nation, heartbeat bills are mounting.
Today, we have an urgent duty to stand for stand for truth and stand for life. Let us pray for courage and wisdom in our leaders in the days ahead and continue to hold our heads up high and fight for what is urgently fundamental: the right to life.

My uncle, Dr. Martin Luther King Jr., once famously remarked that "injustice anywhere is a threat to justice everywhere." His words echoed throughout the country when he spoke, and they shaped the course of American history. His message remains true to this day. Let us stand up, pray up, and speak for life, from the womb to the tomb.

Thank you, and God bless.
Alveda King, niece of Dr. Martin Luther King, Jr., is the founder of King for America, Inc. and serves on Priests for Life's pastoral team.
https://cnsnews.com/commentary/alveda-king/alveda-king-pray-justice-truth-and-life