Top 7 ways Biden Regime and Big Food corporations are crippling family-owned farms in America
May 14, 2023 by: S.D. Wells


This article may contain statements that reflect the opinion of the author
(Natural News) One of the keys to surviving the Democrat-led food and resource apocalypse is keeping local and family-run farms functioning in full capacity. The Leftists would call it a conspiracy by the Right, but the signs are far too obvious for it to be anything but a true conspiracy created by the Left. As the Health Ranger has explained in depth on Brighteon podcasts, the Biden regime is a cabal full of tyrants who want Americans to live in the Dark Ages, with no stoves, no hot water, no flushing toilets, no cars, and wait for it… no natural food. The supply chain crippling and dismantling has been systematic so far, and the economic impact to family-owned farmers has been nothing short of apocalyptic.
As the natural health realm increases in popularity and strength, the Biden Regime moves to destroy it completely, paving the way for a communist Amerika
As the allopathic world of medicine gets more dangerous and less effective at helping sick folks cope, especially during and after the Covid plandemic, more and more consumers are turning to wholesome, fresh, unadulterated local farms for their steady supply of produce, including fruits, vegetables, berries, grains and oats.
Most local produce is free from GMOs and chemical pesticides, including herbicides and insecticides, plus the cost can be lower because less transportation expenses are incurred for the grower and sellers. Many local farmers also grow fruit, vegetables, and herbs in greenhouses, using mineral fortification and clean water that's free of pollutants.
Here are the main 7 ways the wicked Biden Regime and top corporations are choking out family-owned farms in this country
#1. Dismantling and destroying the supply chain
#2. Beginning to make mRNA vaccines mandatory for farm animals
#3. Poisoning the animal feed with toxins and infertility chemicals
#4. Cost of transportation skyrocketing with fuel prices, trucking company interruptions
#5. Inflation is hurting family businesses more than corporations
#6. Pollution of land and rivers from dioxins, hospital waste, biosludge
#7. Push for lab-concocted, GMO test-tube meat and zombie eggs
Americans with small-to-midsized farms are finding it increasingly difficult to make a living and afford to keep their business going. The globalists and Democrats want to destroy our economy with delusional visions of ending all fossil fuel use in the next decade or so. Trains are mysteriously derailing with chemicals spilling onto small farms and polluting regions with dioxides and other "forever" chemicals. Food processing plants are exploding and suffering from random arson all across the nation.
Many farmers are finding out their animal feed is poisoned with chemicals, GMOs, and infertility drugs that keep their chickens from producing eggs, for example. These feeds are often coming from corporate entities that may be doing it on purpose to snuff out the "competition."
Now, Bill Gates and his GMO minions want to inject every living farm animal with mRNA "technology" that will pollute their blood, meat, and byproducts with toxic spike proteins that, as we already know, cause vascular clots, myocarditis, pericarditis, and turbo cancer.
Then, with inflation skyrocketing, the cost of fertilizer, supplies, animal feed, transportation, stocking, and delivery of goods has also doubled, tripled, and quadrupled in certain areas. This is hurting the small farmers much more than the big corporations that highly benefited from the scamdemic, which lasted over two years.
Keep your truth news in check by adding Preparedness.news to your favorites list and tuning in daily for updates on real news about surviving and thriving in the near future, and support your local farmers!
Sources for this article include:
https://www.naturalnews.com/2023-05-14-top-7-ways-biden-regime-big-food-crippling-family-farms-in-america.html
Food collapse incoming: Globalist war on nitrogen emissions putting entire global food supply at risk
May 14, 2023 by: Arsenio Toledo


This article may contain statements that reflect the opinion of the author
(Natural News) Governments all over the world are passing policies to deal with nitrogen emissions – and these policies are putting the global food supply at risk.
The people pushing this so-called "war on nitrogen" claim that excess nitrogen in the environment is hazardous and pollutes the land, the water and the air. They say it even depletes the ozone layer. (Related: Dutch government to seize up to HALF the country's farmland under the guise of curbing nitrogen emissions.)
The United Nations is at the forefront of these claims, suggesting without evidence that nitrogen is not only a contributor to so-called climate change, but that nitrogen pollution is also somehow a threat to human health and is detrimental to the global economy.
"Nitrogen is a primary nutrient essential for the survival of all living organisms on earth," admitted Leticia Carvalho, principal coordinator of the United Nations Environment Program's Marine and Freshwater Branch. "But the world needs to wake up to the issues of nitrogen waste and the opportunities to take joint action for its sustainable use."
Sri Lanka, Netherlands leading the "war on nitrogen"
Two of the main nations leading the globalist "war on nitrogen" are Sri Lanka and the Netherlands.
In April 2021, the Sri Lankan government led by then-President Gotabaya Rajapaksa banned the use of all chemical fertilizers in the small island nation of 22 million people.
Around a year after that decision, the government was forced by widespread protests to roll back the ban after it led to a rapid collapse in food yields, with some estimates suggesting an annual drop of at least 30 percent in paddy yields.
"I cannot recall any time in the past when we had to struggle so much to get a decent harvest," lamented 65-year-old W.M. Seneviratne in the eastern Sri Lankan village of Agbopura at the time. "Last year, we got 60 bags [of rice] from these two acres. But this time it was just 10."
"These crops need urea. Compost is just not good enough and we didn't even get any of the organic fertilizer that was distributed by the government," he added. Urea, a widely used and low-cost chemical fertilizer containing 46 percent nitrogen, is an essential element in the life cycle of crops for farmers around the world like Seneviratne.
And in the Netherlands, the Dutch coalition government has just received the green light from the European Union to move forward with a plan to cut nitrogen emissions in half by 2030 by expropriating land from the nation's farmers.
The plan sets aside nearly 1.5 billion euros ($1.64 billion) for farmers who are willing to "voluntarily" sell their farms to the state in exchange for sizeable compensation. All agricultural work on seized lands would then stop immediately to prevent large-scale emissions of nitrogen from the area. Some 3,000 farms are expected to be seized within the next few years.
Multiple other countries might be joining the attacks on farmers for their supposedly harmful nitrogen emissions soon, particularly those nations that have committed to reducing their nitrogen emissions.
Learn more about how the climate alarmists are coming for the food supply at GreenTyranny.news.
Watch this video from The New American as Alex Newman and documentary filmmaker James Patrick discuss how the Dutch plan to seize farmland under the guise of restricting nitrogen emissions is just a plot to transfer more land to the elites.
https://www.brighteon.com/embed/bcda9c30-2512-4908-b730-c266466a4afb
This video is from the channel The New American on Brighteon.com.
More related stories:
Food insecurity a growing problem in US – America turning into a third-world country.
STARVE FOR THE CLIMATE: European Union partners with Dutch government to shut down dairy, cattle, pig and poultry farms across the country.
The globalists are "coming for your food," experts warn – "plant-based" tyranny will rule the world.
According to globalists, we are one crop failure away from "food system meltdown" – new consumables added to the shortage and/or inflation list.
RICE is the latest target of climate change cultists and the global war to starve populations to death.
Sources include:
https://www.naturalnews.com/2023-05-14-war-nitrogen-emissions-global-food-supply-risk.html
---
Very Bad News from YOU!
---
Supreme Court narrows WOTUS definition
Sackett case ruling deals major blow to EPA's regulatory authority.
Joshua Baethge May 25, 2023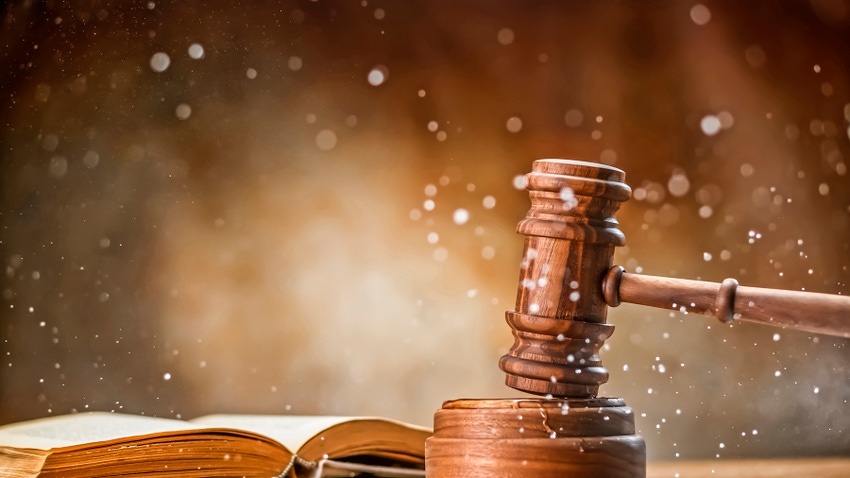 GETTY IMAGES
The Supreme Court delivered a landmark decision Thursday that will significantly curtail the Environmental Protection Agency's ability to regulate certain bodies of water. In a decision that was technically unanimous, the Court ruled in favor of an Idaho landowner in the long-running Sackett vs. EPA case.
The Clean Water Act of 1972 gave EPA the authority to regulate navigable waters in the United States. At issue is what bodies of water should be considered "Waters of the United States."
Under the most recent definition of WOTUS issued by the Biden Administration late last year, EPA had the authority to regulate various small bodies of water, including those on private land and farms, if they had a "significant nexus" to navigable waterways. That definition included tributaries, adjacent wetlands and streams if they alone, or in combination with similarly situated water, significantly affected the chemical, physical or biological integrity of protected waterways.
In the majority opinion authored by Justice Samuel Alito, the court held that this definition was too broad, and limited EPA's authority to only wetlands "with a continuous surface connection" to navigable waterways. Joining him in the majority opinion were fellow Republican-appointed Justices John Roberts, Clarence Thomas, Neil Gorsuch and Amy Coney Barrett.
Related:Court issues another blow to WOTUS
The ruling overturns a previous decision by the Ninth U.S. Circuit Court of Appeals and effectively invalidates the Biden WOTUS rule.
It also ends a 16-year odyssey for Chantell and Mike Sackett. In 2007, the couple was building a new home in Priest Lake, Idaho. Then EPA and Army Corps of Engineers officials informed them their residential lot was on a protected wetland. They were threatened with daily fines unless they applied for a federal permit. Instead, the Sacketts sued the government.
Conservative-leaning Pacific Legal Foundation argued the case before the Supreme Court. Senior attorney Damien Schiff called the Court's ruling a resounding victory for property owners across the country.
"The Court's ruling returns the scope of the Clean Water Act to its original and proper limits," Schiff says. "Courts now have a clear measuring stick for fairness and consistency by federal regulators. Today's ruling is a profound win for property rights and the constitutional separation of powers."
Ag leaders applaud ruling
American Farm Bureau Federation President Zippy Duvall said his organization appreciated the court's careful consideration of the Sackett case's implications. He hopes it will lead to a new WOTUS rule more tolerable to agriculture producers.
Related:Biden vetoes WOTUS repeal
"The EPA clearly overstepped its authority under the Clean Water Act by restricting private property owners from developing their land despite being far from the nearest navigable water," Duvall says. "The justices respect private property rights. It's now time for the Biden administration to do the same and rewrite the Waters of the United States Rule. Farmers and ranchers share the goal of protecting the resources they're entrusted with, but they deserve a rule that provides clarity and doesn't require a team of attorneys to properly care for their land."
House Agriculture Committee Chair Glenn "GT" Thompson, a consistent critic of the Biden WOTUS rule, called the Supreme Court decision a victory for farmers, ranchers and landowners.
"The decision reaffirms the rights of property owners and provides long-needed clarity to rural America," Thompson says. "In light of this decision, the Biden administration should withdraw its flawed final WOTUS rule. It is time to finally put an end to the regulatory whiplash and create a workable rule that promotes clean water while protecting the rights of rural Americans."
National Cattlemen's Beef Association President Todd Wilkinson released a similar statement. His organization has been fighting against WOTIS rules that don't include agriculture exemptions. Since 2015, NCBA has be involved in litigation challenging the constitutionality of EPA's water regulating authority. Wilkinson says cattle producers can now breathe a sigh of relief.
"Today's Supreme Court opinion refocuses the Clean Water Act on protecting our water resource through regulatory clarity," he said. "We look forward to working with the EPA and U.S. Army Corps of Engineers as they implement the Court's new continuous surface connection standard."
Unanimous decision with major disagreements
While all nine Justices agreed the Sackett's land should not have been subject to EPA authority, their opinions diverged sharply from there. Republican-appointed Justice Brett Kavanaugh and Democrat appointees Sonya Sotomayor, Elena Kagan and Ketanji Brown Jackson believe Alito's conclusion went too far.
In their concurring opinion, Kavanaugh wrote that the new continuous surface connection standard goes against current law, 45 years of EPA practices and Supreme Court precedents. He contends the decision narrows the Clean Water Act's protection of adjacent and adjoining wetlands to only adjoining ones. This means that minor features like man-made dikes, natural river berms or beach dunes could leave otherwise connected wetlands unprotected.
"By narrowing the Act's coverage of wetlands to only adjoining wetlands, the Court's new test will leave some long-regulated adjacent wetlands no longer covered by the Clean Water Act, with significant repercussions for water quality and flood control throughout the United States," Kavanaugh says.
https://www.farmprogress.com/farm-policy/supreme-court-narrows-wotus-definition