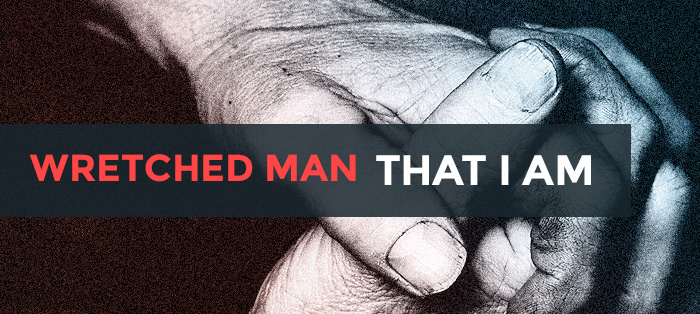 by Jeremiah Johnson June 24, 2015
Every believer understands the frustration, confusion, and doubt caused by our sin after we're saved. We know we've been transformed through the power of God's redeeming work. He's changed our nature and set us free from the dominion of sin and Satan. But we don't always live in the reality of that freedom. In fact, we sometimes get the sense that we're still wicked sinners, and that nothing has changed at all.
Apostolic Exasperation
That angst over remaining sin is probably best described by the apostle Paul in Romans 7:14-25.
For we know that the Law is spiritual, but I am of flesh, sold into bondage to sin. For what I am doing, I do not understand; for I am not practicing what I would like to do, but I am doing the very thing I hate. But if I do the very thing I do not want to do, I agree with the Law, confessing that the Law is good. So now, no longer am I the one doing it, but sin which dwells in me. For I know that nothing good dwells in me, that is, in my flesh; for the willing is present in me, but the doing of the good is not. For the good that I want, I do not do, but I practice the very evil that I do not want. But if I am doing the very thing I do not want, I am no longer the one doing it, but sin which dwells in me. I find then the principle that evil is present in me, the one who wants to do good. For I joyfully concur with the law of God in the inner man, but I see a different law in the members of my body, waging war against the law of my mind and making me a prisoner of the law of sin which is in my members. Wretched man that I am! Who will set me free from the body of this death? Thanks be to God through Jesus Christ our Lord! So then, on the one hand I myself with my mind am serving the law of God, but on the other, with my flesh the law of sin.
That passage has puzzled scholars and theologians throughout the history of the church. Is Paul describing himself before Christ, or is he talking about someone else—perhaps someone with very little spiritual maturity, or a believer still caught in sin's grasp? Or is this passage an indication that Paul was mentally unstable, as he seems to drift between two contradictory mindsets? The mind that has not been illuminated by the Holy Spirit likely cannot make any sense of Paul's confessional self-description.
Two Steps Forward, One Step Back
In his book The Gospel According to the Apostles, John MacArthur helps us answer some of those questions and understand the inner conflict Paul describes.
This is no carnal Christian or someone with a low degree of sanctification. Paul's repeated use of the personal pronoun in this context emphasizes that this was his own personal experience. The verb tenses show that he did not consider himself past this stage. The conflict that he describes here was one he knew well—even as an advanced Christian. God's sanctifying work in his heart is clearly evident. He says he hates his sin (v. 15). He loves righteousness (vv. 19, 21). He delights in the law of God from his heart (v. 22). He thanks God for the deliverance that is his in Christ (v. 25). Those are all responses of a mature Christian, in this case as seasoned apostle; not someone floundering in the throes of a desperate state of established carnality. In fact, it is the description of a godly man whose occasional sin feels like a constant thing when set against the backdrop of his holy longings.

Romans 7:14-25 thus describes the human side of the sanctifying process. We must not set it against Romans 8, as some do, imagining that these chapters describe two separate stages of Christian growth. They simply give two different perspectives on sanctification. Romans 7 is the human perspective; Romans 8 is the divine perspective. Romans 7 is Paul's own testimony of how it is to live as a Spirit-controlled, spiritually grounded believer. He loved the holy law of God with his whole heart, yet he found himself wrapped in human flesh and unable to fulfill it the way his heart wanted to. Are there Christians anywhere who are so spiritual that they can testify to a life lived above this level? [1]
For believers, the push and pull the apostle describes is a common, even frequent occurrence. We understand hating sin even while we're sinning. We recognize the compulsion to return to the very sins the Lord has saved us from. And we can appreciate how the remaining stains of our sinful past cause us to question whether we've truly been transformed at all.
An Unlikely Source of Assurance
But in the midst of that frustration, John MacArthur says we ought to find encouragement and assurance.
All true believers should be living at precisely this level, struggling with the tension Paul describes between an ever-increasing hunger for righteousness on the one hand, and a growing sensitivity to sin on the other. Though the degree of sin will vary depending on one's level of spiritual maturity, sin in the genuine believer should always make him or her feel the conflict Paul describes in these verses. [2]
In a slightly ironic twist, the believer's frustration over his sin and lack of spiritual growth is a strong indication that he is growing spiritually. In fact, it's the believer who doesn't have this inner struggle who needs to be concerned.
Though some have tried to claim they live above Romans 7, they only reveal their own insensitivity to the pervasive effects of sin in the flesh. If they would honestly measure themselves against God's standards of righteousness, they would realize how far they fall short. The closer we get to God, the more we see our own sin. Only immature, fleshly, and legalistic persons can live under the illusion that they measure up well by God's standards. The level of spiritual insight, brokenness, contrition, and humility that characterizes the person depicted in Romans 7 are marks of a spiritual and mature believer who before God has no trust in his own goodness and achievements.

So Romans 7 is not the cry of a carnal Christian who cares not of righteousness, but the lament of a godly Christian who, at the height of spiritual maturity, nevertheless finds himself unable to live up to the holy standard. It is also the experience of every genuine believer at every stage of spiritual development. [3]
We need to take great comfort in the fact that the struggle against our flesh is an indication of victory over the flesh. Paul was no ordinary believer—he encountered Christ face-to-face; he was whisked away to see the glories of heaven; he witnessed and performed miracles through the power of the Holy Spirit. In spite of all that, he still struggled with sin, and longed to be free of the fleshly shackles of his former nature, crying out, "Who will set me free from the body of this death?" (Romans 7:24).
That was not a helpless exclamation—he already knew the answer, as he immediately identifies His Savior: "Thanks be to God through Jesus Christ, our Lord" (Romans 7:25). Paul's confidence was not in himself or his righteousness, but in God's triumph over sin, producing a settled hope of heaven's glory. He made that clear just few paragraphs later in Romans 8:18-19.
I consider that the sufferings of this present time are not worthy to be compared with the glory that is to be revealed to us. For the anxious longing of the creation waits eagerly for the revealing of the sons of God.
His assurance was rooted in the character and promises of God, and he knew that the Lord would not abandon His transforming work in His people before it was completed. "These whom He justified, He also glorified" (Romans 8:30).
He made the same reassuring point in his epistles to the church at Corinth. He wrote, "For this perishable must put on the imperishable, and this mortal must put on immortality. . . . But thanks be to God, who gives us the victory through our Lord Jesus Christ" (1 Corinthians 15:53, 57). "While we are in this tent, we groan, being burdened, because we do not want to be unclothed but to be clothed, so that what is mortal will be swallowed up by life" (2 Corinthians 5:4).
The struggle against sin is a good thing, so long as you continue to struggle. It's a lifelong battle, but as John MacArthur points out, one that bears significant fruit.
Yet for now the battle goes on. Full deliverance awaits glorification. Victory here and now is only possible bit by bit as we mortify the deeds of the body through the power of the Holy Spirit: "Therefore consider the members of your earthly body as dead to immorality, impurity, passion, evil desire, and greed, which amounts to idolatry" (Colossians 3:5). "For if you are living according to the flesh, you must die; but if by the Spirit you are putting to death the deeds of the body, you will live" (Romans 8:13).

We are bound to be frustrated by our inability to experience holiness to the degree we desire. That is the inevitable experience of every true saint of God. Because of our flesh we can never in this life achieve the level of holiness to which we aspire. "And not only this, but also we ourselves, having the first fruits of the Spirit, even we ourselves groan within ourselves, waiting eagerly for our adoption as sons, the redemption of our body" (Romans 8:23). But that hope further inflames our aspirations to holiness. [4]
In The Gospel According to the Apostles, John closes his chapter on Romans 7 by quoting 1 John 3:2-3. It's a good reminder that while the holiness we long for sometimes feels a long way off, it is never in doubt.
Beloved, now we are children of God, and it has not appeared as yet what we will be. We know that when He appears, we will be like Him, because we will see Him just as He is. And everyone who has this hope fixed on Him purifies himself, just as He is pure.
Next time we'll bring our discussion of sin, grace, and righteousness full circle, as we consider the believer's adoption into the family of God.