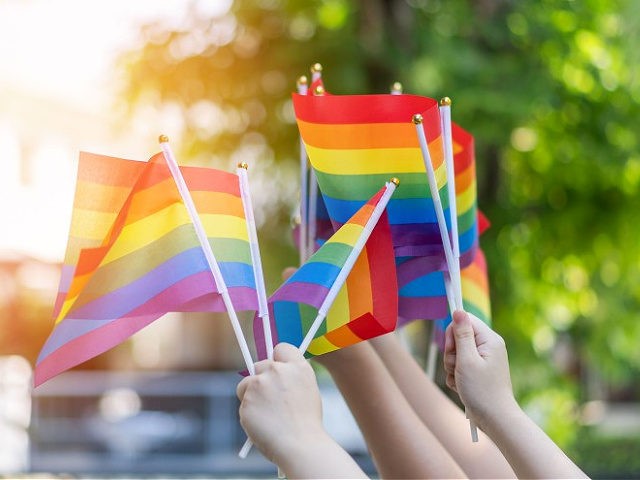 DR. SUSAN BERRY 19 Nov 2021
Author and journalist Abigail Shrier said authenticated documents and audio files sent to her reveal activist teachers are working to personally recruit middle school-age children for "LGBTQ clubs" by tracking their Google searches, all while subverting parents.
Shrier, the author of Irreversible Damage: the Transgender Craze Seducing Our Daughters, wrote at her Substack column Thursday that the leaked materials from a meeting of the California Teachers Association (CTA) last month revealed the union "advising teachers on best practices for subverting parents, conservative communities and school principals on issues of gender identity and sexual orientation."
"Speakers went so far as to tout their surveillance of students' Google searches, internet activity, and hallway conversations in order to target sixth graders for personal invitations to LGBTQ clubs, while actively concealing these clubs' membership rolls from participants' parents," she added.
The documents and files, Shrier reported, were "authenticated by three conference participants," at a sold-out event in Palm Springs October 29-31:
The "2021 LGBTQ+ Issues Conference, Beyond the Binary: Identity & Imagining Possibilities," provided best practices workshops that encouraged teachers to "have the courage to create a safe environment that fosters bravery to explore sexual orientation, gender identity and expression," according to the precis of a talk given by fifth grade teacher, C. Scott Miller.
According to Shrier's report, some of the union's workshops advised teachers on how to create the LGBTQ clubs commonly known as "Gay-Straight Alliance" (GSA) groups, while one – "Queering in the Middle" – zeroed in on how to especially grab the attention of middle school-age children.
Lori Caldeira, Buena Vista Middle School teacher and LGBTQ-club adviser in the Spreckels Union School District (SUSD) is reportedly heard on an audio file addressing the issue of what to do about parents who object to their 12-year-old participating in an LGBTQ club.
"Because we are not official – we have no club rosters, we keep no records," Caldeira reportedly said. "In fact, sometimes we don't really want to keep records because if parents get upset that their kids are coming? We're like, 'Yeah, I don't know. Maybe they came?' You know, we would never want a kid to get in trouble for attending if their parents are upset."
Another middle school teacher, Kelly Baraki, was reportedly heard describing how she has changed the name of her "GSA" to the "Equity Club," and then later to "You Be You," in order to keep parents at bay.
Shrier said both Caldeira and Baraki led a workshop titled, "How we run a 'GSA' in Conservative Communities."
Keeping middle school children focused on their sexual orientations and gender identities is still a challenge to these activist teachers.
A boy carries a flag during the New York City Pride March, June 26, 2016, in New York City. (Photo by Eric Thayer/Getty Images)
Shrier reported advice from Baraki:
So, we started to try and identify kids. When we were doing our virtual learning – we totally stalked what they were doing on Google, when they weren't doing school work. One of them was googling "Trans Day of Visibility." And we're like, "Check." We're going to invite that kid when we get back on campus. Whenever they follow the Google Doodle links or whatever, right, we make note of those kids and the things that they bring up with each other in chats or email or whatever.
"We use our observations of kids in the classroom—conversations that we hear—to personally invite students," Baraki reportedly continued. "Because that's really the way we kinda get the bodies in the door. Right? They need sort of a little bit of an invitation."
Caldeira reportedly said she uses her job as the teacher who runs morning announcements as another strategy:
I'm the one who controls the messaging. Everybody says, "Oh, Ms. Caldeira, you're so sweet, you volunteered to do that." Of course, I'm so sweet that I volunteered to do that. Because then I control the information that goes home. And for the first time, this year, students have been allowed to put openly LGBT content into our morning announcement slides.
Caldeira apparently touted in the audio clip that her LGBTQ student "team" consists of three children, "two of them are non-binary, and the other one is just very fluid in every way – she's fabulous."
"So, it's actually a nice group," she reportedly said. "And the principal, she may flinch, but she [flinches] privately."
To prevent the problem of "parent backlash" after middle schoolers spill the beans to their parents about the actual content of the "anti-bullying" presentation taught by Caldeira and Baraki, Shrier reported Baraki said, "Next year, we're going to do just a little mind-trick on our sixth graders."
The teacher explained:
They were last to go through this presentation and the gender stuff was the last thing we talked about. So next year, they'll be going first with this presentation and the gender stuff will be the first thing they are about. Hopefully to mitigate, you know, these kind of responses, right?
"Parents who oppose this material being taught to their sixth graders will find that their objections arrive too late," Shrier noted, commenting further on some of the two teachers' remarks about parent objections.
Baraki, for example, mocked one parent who objected to the presentation, asserting she had not planned on discussing gender identity with her middle school-age child as yet.
"I know, so sad, right?" Baraki was apparently heard ridiculing the parent. "Sorry for you, you had to do something hard! Honestly, your twelve-year-old probably knew all that, right?"
When another parent voiced strong objections to the content of the presentation and the principal suggested she send her child to a private school, Caldeira reportedly said, "So that was a win, right? We count that as a win."
"Plus, I hate to say this, but thank you CTA—but I have tenure!" the teacher boasted further. "You can't fire me for running a GSA. And so, you can be mad, but you can't fire me for it. CTA has made it very clear that they are devoted to human rights and equity. They provide us with these sources, these resources and tools."
Shrier observed the irony of Caldeira's comment to her teacher audience.
"You should know, we've also acted with great integrity in the past several years that we have run [a GSA]," Caldeira reportedly said. "We never crossed a line. We've wanted to, but we never have."
The school district provided the following response to Shrier's report, noting, "The teachers were using personal leave to lead a breakout session in their roles as CTA members; they were not officially presenting on behalf of SUSD, nor were their presentation materials or comments reviewed by SUSD administration."
"Many of the comments and themes stated in the article are alarming, concerning, disappointing, and do not in any way reflect the District or Board of Education's policies and practices," SUSD officials said, addressing the steps the district is now taking:
The student club mentioned in the article, UBU (You be You), has been suspended.
Any future student clubs will be required to submit an outline of all activities and materials before being allowed to meet. Student sign-in sheets will be maintained and parent/guardian permission slips will be sent home prior to a club holding a meeting.
All messaging shared in the morning announcements will now be controlled and distributed by the site principal. This practice will be in place permanently.
Any presentation or assembly involving sensitive themes such as sexuality will be created in line with state-approved standards and curriculum, and under the supervision of site and district administration. Materials of any sensitive themes will be shared with parents/guardians prior to being shown to students.
Teachers are prohibited from monitoring students' online activity for any non-academic purposes.
"Regarding the teachers involved, appropriate personnel steps are being taken to make sure such activities and comments will not be repeated," the response stated.
https://www.breitbart.com/education/2021/11/19/abigail-shrier-activist-teachers-recruit-middle-schoolers-lgbtq-clubs-mock-parents/
---
It begins: FBI raids house of mom who protested school board
At home with 3 children when federal agents demanded entry
By WND News Services November 22, 2021
By Leo Hohmann
An FBI SWAT team raided the home of an activist mother of four in Colorado on Tuesday, Nov. 16, knocking down her door, bursting into the house with guns and handcuffing her while she was homeschooling her children.
This is the first known case of the federal government making good on its promise to not only intimidate but actually carry out a raid on a mom who was involved in her local school board politics, said Brannon Howse, who interviewed Sherronna Bishop at Lindell TV Wednesday night.
The U.S. Department of Justice and Attorney General Merrick Garland issued an Oct. 4 memorandum directing federal, state and local law enforcement to look for parents to prosecute nationwide who may have made "threats" and made "harassing" phone calls to school board members nationwide, equating such parents to domestic terrorists.
Now a mother, Sherronna Bishop of Grand Junction, Colorado, has felt the brute force of the FBI's heavily armed SWAT unit used against her family.
She was at home with her three children about 9:30 a.m. Tuesday when she heard someone pounding on the front door, then using a battering ram to break it down. She said the officers "manhandled" her 18-year-old daughter, pulling her up the stairs by her hoodie, while another officer put her in handcuffs and ushered her out of the house. They proceeded to search the entire house.
UPDATE AS OF NOV. 19: The FBI has filed no charges against Bishop.
Three of Bishop's four children, ages 8, 10 and 18, were home at the time of the raid, as was her husband, who was also handcuffed. Her 17-year-old son was at his high school.
Besides being a frequent attendee at her local school board meetings, Bishop has also been active in the voter integrity movement in her state and locality. She runs the website Americasmom.net, and on that site she features an article and video under the title We the Parents: How Did We Get Here?
She said she has not been guilty of anything but speaking her mind in accordance with her First Amendment rights.
"This is still the United States of America, where we are able to state what we think and we believe," she told Howse. "There was some pounding on my door. I didn't really know what to think, I thought at first it might be some neighbor kids. They were pounding profusely, and then it hit me it was the FBI. I took my kids to their bedrooms. They used a battering ram to bash down my door, they cuffed me. And then proceeded to search and go through my whole home."
She said the agents would not tell her why they were searching her home. They did leave behind documents related to the search warrant, saying they entered her home because she was suspected of causing "intentional damage to a protected computer, wire fraud and conspiracy to cause damage to a protected computer."
"I don't know anything about this. They couldn't explain any of this," she said. "I will tell you why: they were at my home to intimidate me, to shut me up, because I was using my First Amendment rights to advocate for [Mesa County Clerk] Tina Peters on the issue of Dominion [voting machines] and the damage done in our election. And they'll never be held accountable. Instead they will criminalize this woman who has stood up."
"I know people will say, well Sherronna, why don't you just shut your mouth… That's exactly what they hope you will do. I can open my mouth and say whatever I want to say and that is not a criminal action. This is about their desire to shut you down and stop you from saying it."
"I'm a law abiding citizen, I'm very supportive of law enforcement," she continued. "I love the Constitution. And what happened yesterday, what happened is something I never imagined I would experience in America."
Bishop said she uses her website, AmericasMom.net, to educate and inform parents and moms regarding their children's education.
"And since then we've gotten involved in school board races. I love my state. I'm a fourth generation Coloradan. Most recently I've been a very vocal advocate of a candidate [Peters]… She's had to fight for her own life, and a guess now I'll have to fight for mine."
Bishop has been part of a group of parents that have been successful in fighting the teaching of critical race theory and school mask mandates.
"Colorado was able to flip nine school boards this year. We were able to get one of our leftists to resign and we also flipped our school board in the election," Bishop said. "And people like me are considered domestic terrorists now, because we don't stand for the policies that have been forced upon our children."
Howse said history will be kind to Bishop.
"I believe you will go down in history as the first mom targeted [by the FBI]. The FBI has said it plans to do this and I believe you are the first mom to have this done to you. Mask mandates, opposing critical race theory, election theft, which Biden said if you question that you are involved in subversion. But I believe you are the first mom to have been targeted and had your door literally busted down while you were homeschooling your kids."
Bishop said she has always made a point of being transparent.
"I have always made myself available, I've never tried to hide from anything and now for them to bash my door down, manhandle my daughter… I think the timing is really interesting, because we don't want people to be silent because of what happened to me. If anything I want people to be more vocal,… because this is still America and you still have the right to stand up for yourself and your family."
"I believe elections have consequences, and in this case this illegitimate regime is having serious consequences for all of America."
Howse asked if she ever thought she would be targeted in this way by her own government.
"No I never thought in America that a suburban housewife and mom would have her door bashed in by the FBI," she said.
He asked about her three children.
"My kids are very resilient. And part of schooling them has been to teach them the proper role of government and the proper role of law enforcement and I can't convince them now that the FBI are good guys. And I really have my own doubts about that now. You cannot just say 'I followed orders' to go bash someone's door down. They are responsible for what they are doing."
Howse had just concluded a series of interviews with a panel of four retired FBI agents just days before the raid in which they had described similar raids against non-violent patriotic Americans over the last few years, starting with Gen. Michael Flynn in 2016, followed by the pre-dawn raid on author and Trump ally Roger Stone in 2019 and then the violent entering of journalist James O'Keefe of Project Veritas just last week.
"I was on the [FBI] SWAT team for several years," said Brian Shepard, appearing with three other retired FBI agents at a symposium aired by WVW TV on Nov. 16. "And I can tell you from my experience, and I think all others of the bureau agents here would echo what I'm going to say. We never conducted a search or conducted an arrest of someone who was not a violent offender. And the thought when I heard about what happened with Roger Stone, just outraged me so much that, it just rose up inside me."
Now, an activist mom has been targeted, raising the question: Has the FBI become the political shock troops for the White House, seeking to harass and intimidate anyone who speaks out against its policies?
Howse said it was obvious that Shepard became emotional when he began talking about how the bureau, he gave the better part of his life to serve, had now taken to bashing down the doors of non-violent American patriots.
"Brian's reaction is very typical of men in that generation who served in the FBI, and many of those men have responded the same way, because they gave the best years of their lives to the agency, and upheld what they believed were the values of the agency, bravery, integrity and fidelity, and they become emotional when they saw how this has been discarded. They are beside themselves. It happened to others and now it happens to you, within days of our filming [of the panel]."
Bishop said the timing was not lost on her.
"I can't explain it. I can't explain being a target, for an agency that typically takes down the cartel, human trafficking, and now I've had my children traumatized and if this can happen to me, they'll come for you too."
"I made myself completely transparent to them and yet they chose to break down my door, terrorize my kids and try to intimidate me."
She said the agents took her phone and other devices and kept her handcuffed for at least 30 minutes.
"No, I never had any access to any voting machines. They know I am just a voice, an advocate. We must have been effective. I know the people here, they're not going to back down, and we're not going to stop. In times past they never would have moved forward on this, but the narrative in America right now is one that is pushing a progressive narrative of communism. Now you can stay in your home and talk about it privately but you dare not come out and talk about it publicly …or they will send the FBI to your door because according to this regime you are a domestic terrorist.
"We've got to stick together and we can't let these thugs put us into fear and intimidation."
Howse said he was shocked by the news of Bishop's experience.
"I could see them moving against someone like me, or Mike Lindell. It is hard to see them coming after someone like you, to come after a mom, who is working at the school board level and the election level, and to bust your door down? This is totally unprecedented by the agency in how they conducted themselves. So even for someone who has studied communism and a color revolution, the way they are doing it and the pace at which they're doing it, I never anticipated it to move this fast."
[Editor's note: This story originally was published by by LeoHohmann.com.]
---
Government kills ALL public voices to avoid hearing one explosive issue
Bans residents from making any personal comments
By Bob Unruh November 21, 2021
Commissioners in one Wyoming county where parents have raised objections – 85 so far – to what they consider pornographic material being made available to children in the public library – apparently think they've solved the dispute.
They are refusing to accept any public comments at their meetings.
On any issue.
It seems they tried to ban comments on just the library and its problems, but were warned that it's illegal to censor statements based on their content, so took the dramatic step of refusing to allow any public comments.
The details come from MassResistance, whose Wyoming members have been instrumental in raising community concerns over the presence of objectionable materials and their availability to children.
The organization explained the commissioners "did not hide their reason: The majority of the commissioners do not want to hear any more complaints or criticism (from Wyoming MassResistance parents) about the lurid pornographic books in the public library children's and teen's sections."
The report explained it was on Oct. 15 that Campbell County commissioners announced "no public comments about the library books would be allowed."
"But then, apparently, the concept of banning a particular type of speech seemed problematic. So at their next meeting, on October 19, the Commission voted 3-2 to ban all public testimony at their meetings," the report said.
The report explained, "The library books in question tell young teenage boys and girls that 'gay' sex is desirable and instruct them in graphic detail how to engage in a variety of perverted homosexual and lesbian sex acts. Some of the books overtly encourage girls to become lesbian. Another promotes the 'how-to' for girls to "transition" to boys by having breast removal surgery, taking male hormones to grow facial hair, and …"
Parents have protested, and the commissioners have insisted they go through a formal "challenge" process for each objection.
"That is an insulting sham. The same library employees who brought the books into the library decide on the 'challenge.' So far, there have been over 85 formal challenges filed by parents in the community with the library. The challenges have all been denied; not a single book has been removed from the library," the report said.
Documents obtained by MassResistance through a Freedom of Information process even revealed that one county official suggested bringing police in to commission meetings to "control upset parents," the report said.
WND previously reported on a criminal complaint filed with the sheriff's office by two parents over the books.
They charged that while Wyoming law exempts schools and libraries from prosecution for displaying obscene material, the "law does not exempt them" if they encourage children to engage in sexual relations, which is a crime.
However, when local authorities who would have been required to defend the library in such a case called in a special counsel from an adjacent county to review the case, he declined to take any action, claiming that the objectionable books might have "scientific" value.
Parents Hugh and Susan Bennett had submitted copies of four of the books with their request that charges be filed under the state law that penalizes those to solicit "anyone less than the age of 14" to engage in sexual acts.
The Bennetts had pointed out "This Book is Gay" teaches children how to participate in homosexual and lesbian acts, "How Do You Make a Baby" includes pornographic drawings, "Doing It: Let's Talk About Sex" promotes "sexual pleasure for children," "Sex is a Funny Word" coaches 8-year-olds to "be comfortable getting naked and being touched," and "Dating and Sex: A Guide for the 21st Century Teen Boy" teaches how to enjoy pornography.
Jonathan G. Lange, a pastor of a church on the other side of Wyoming, wrote just at the same time at the Federalist about the problem facing parents.
Lange, the leader of the Wyoming Pastors Network, pointed out the American Library Association "recognizes no age limits on what children can access — either in print, video, audio, or online."
He explained that means the ALA opposes restrictions on porn, citing filters on computers as well as the books, "Doing It," "The V-Word" and "This Book is Gay."
"Unless you read the above-named titles for yourself, you will likely not believe what unsuspecting children can encounter in your local library. These titles would be perfectly at home in the seediest 'adult book store.' Who but the most jaded parents would dream that a library might display them in the children's section at the eye-level of your average seven-year-old?"
And the libraries?
He explained, "By attractive, kid-friendly displays, they invite curious children to read what your local newspaper editor is ashamed to print."
He warned American libraries are turning the Constitution on its head.
"Every county and school district library in America could be indecently exposing children to explicit content. Most libraries endorse and subscribe to the ALA's twisted version of the First Amendment. Through guidance such as the Library Bill of Rights, The Freedom to Read Statement, and the Freedom to View Statement, the ALA treats parents shielding the innocence of their own children as violators of the First Amendment," he said.
---
Related