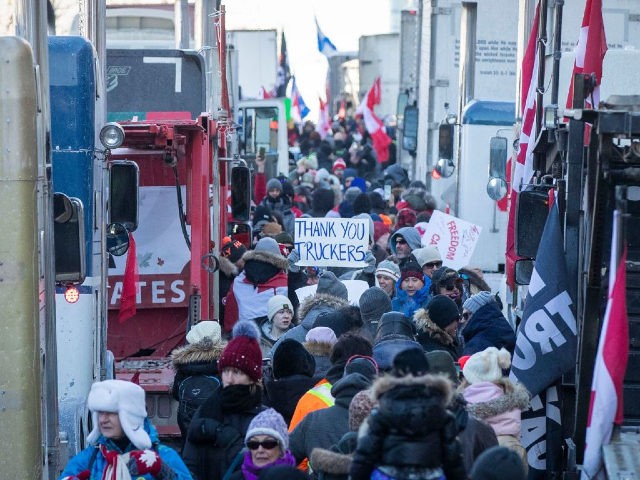 FRANCES MARTEL 8 Feb 2022
Far-left Canadian Prime Minister Justin Trudeau is facing mounting frustration in his side of the political aisle for failing to act in the face of growing "Freedom Convoy" protests against coronavirus-related mandates – frustration he tried to stem by making a last-minute appearance in Parliament on Monday night.
Trudeau announced that he had tested positive for Chinese coronavirus on January 31 and that he would be recovering in an undisclosed location. The announcement immediately preceded the arrival of a "Freedom Convoy" of trucks into Ottawa, where they have been parked since, honking in protest and demanding an end to vaccine mandates, mask mandates, and all restrictions on civil rights imposed by the Trudeau government in the name of the Chinese coronavirus pandemic.
The Ottawa protest has been, according to police, largely peaceful, attracting families and creating a party atmosphere in the city's downtown. The prime minister emerged once during his quarantine to broadcast remarks from his undisclosed hideout dismissing the protesters as deranged, racist conspiracy theorists.
"The concerns expressed by a few people gathered in Ottawa, right now, are not new, not surprising, are heard, but are a continuation of what we've unfortunately seen in disinformation and misinformation, online conspiracy theorists, about microchips, about God knows what else that go with tinfoil hats," Trudeau rambled early on in his isolation period.
"After Ottawa's mayor asked for a huge surge of police, Mr. Trudeau promised the feds would make available the resources the city needs to end the protests. He said Transport Minister Omar Alghabra would work with provincial authorities to ensure protesters face consequences," Clark wrote. "But this was a belated effort 11 days into an episode that has seen authorities of all levels and politicians of all stripes fall short of actual leadership."
"Mr. Trudeau's surprise evening appearance was a belated attempt to throw something into the void of leadership – one that Ottawa residents have now seen at every level, and from every stripe," he concluded.
At the Toronto Star, columnist Heather Scoffield applauded Trudeau for once being at "the forefront of efforts to keep aggressive populism at bay," and wondered where the Trudeau of the past had gone.
"The demonstrators are not the face of law-abiding, mostly vaccinated Canadians, but of a fed-up public that is fraying in the face of repeated pandemic constraints and fears for the future," Scoffield alleged. "Trudeau has made that case with clarity. … But there's no case for his near-silence to the broader Canadian public about the crisis that has overrun Parliament Hill."Robert Kraychik / Breitbart News
0 seconds of 1 minute, 28 secondsVolume 90%
Scoffield acknowledged Trudeau's coronavirus diagnosis.
"Of course, Trudeau has been confined to isolation after he and two of his children tested positive for [Chinese coronavirus]. But officials say he is feeling fine," she wrote. "And Trudeau, more than anyone, knows how to reach out to the public from the confines of his home office. Indeed, he has made several virtual appearances over the past 10 days."
Follow Frances Martel on Facebook and Twitter.
https://www.breitbart.com/politics/2022/02/08/canadian-left-accuses-justin-trudeau-of-leaving-leadership-void-after-vanishing-to-undisclosed-location/
Tyrant Trudeau is Losing – Majority of Canadians Now Want All COVID Restrtictions Lifted – Up 15% in Two Weeks
By Jim Hoft February 8, 2022

TRUTH WINS.
Despite all of Justin Trudeau's lies, smears and dirty tricks, he's losing the battle of public opinion.
The Canadian people have had enough.
The latest polling shows a majority of Canadians want the tyrannical COVID restrictions to end. This is a 15 point swing in public opinion in just two weeks.
Toronto Sun reported:
TRENDING: BREAKING BOMBSHELL: Fusion GPS Didn't Only Work on Steele Dossier, They Worked on Nearly Every Key Anti-Trump Narrative Coming from DOJ and Mueller Gang
A majority of Canadians now say it is time to end COVID restrictions, according to an Angus Reid poll, a sharp increase from when the same question was asked in early January.

The latest poll, taken Jan. 27-28, found 54% want restrictions to be lifted compared to just 39% who wanted restrictions lifted when the same question was asked two weeks earlier.

The poll asked people if they agreed or disagreed with the statement: "It's time to end restrictions and let people self-isolate if they're at risk."

"A majority (54%) now say it is time to remove restrictions and let Canadians manage their own level of risk, an increase of 15 percentage points since this question was asked in early January," the Angus Reid Institute said.
New Zealand Protest Convoy Blocks Capital: Demands End to Vaccine Mandates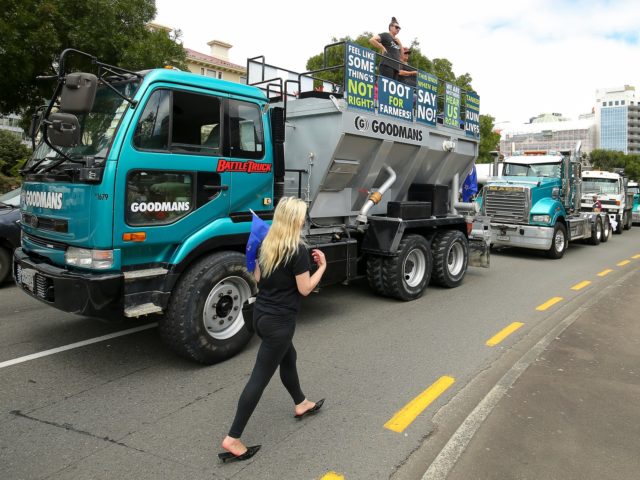 NATHANIEL CHARLES 8 Feb 2022
Hordes of vehicles blocked streets around New Zealand's Parliament on Tuesday, in a protest mirroring others building around the world demanding an end to coronavirus restrictions and vaccine mandates.
An estimated "hundreds" to over a "thousand" vehicles have surged into the capital of Wellington with authorities reluctant to move them on or arrest them due to fears about the "safety" of their "staff."
New Zealand's leftist Prime Minister Jacinda Ardern has declined to meet with the convoy, saying she is too "busy" to meet her opponents.
Vehicles in the convoy included cars, trucks and motorbikes and displayed signs such as "Jabcinda we know you sold your soul to the devil", "Stop the mandate #Freedom" and "Political language is designed to make lies sound truthful."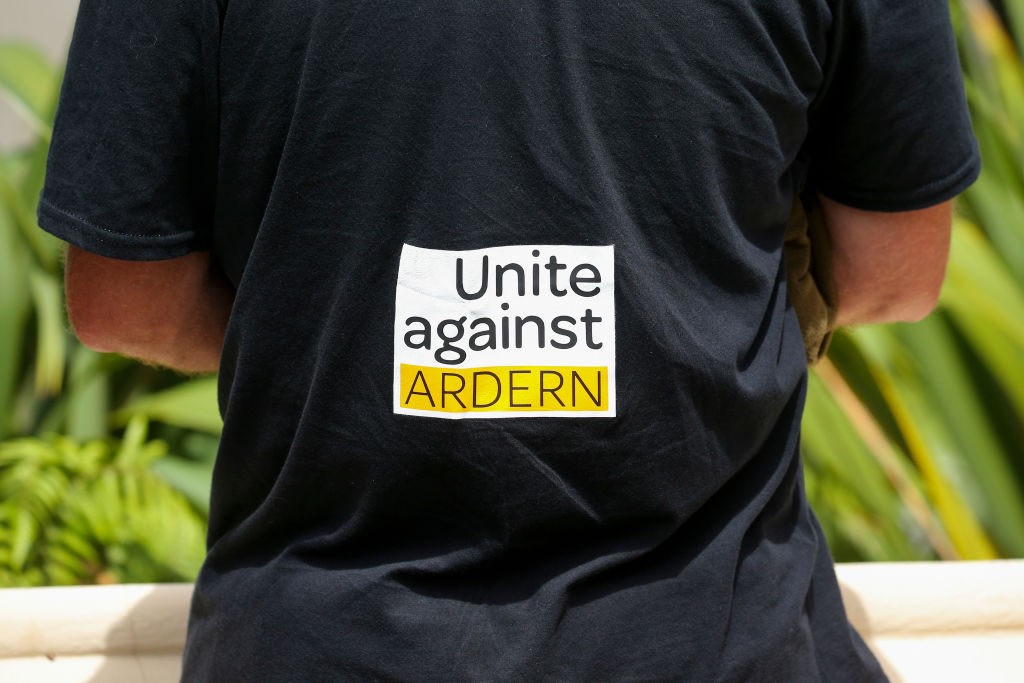 A protester wears a t-shirt displaying a slogan during a protest at Parliament on February 08, 2022 in Wellington, New Zealand. (Hagen Hopkins/Getty)
Protesters hold placards as they gather in front of the parliament building in Wellington on February 8, 2022, during a demonstration against Covid restrictions, inspired by a similar demonstration in Canada. (MARTY MELVILLE/AFP via Getty Images)
A multitude of flags were also spotted alongside the NZ flags brandished by the protestors including the United States' flag, former President Donald Trump-themed flags, and British flags.
The vehicles remained outside New Zealand's Parliament – which had just reconvened after their summer break – for hours, and appear to have left the area peacefully later on in the day, with the Wellington police not reporting any arrests.
An eye-witness testimony from the scene known as 'Anne' told the New Zealand Herald queues of convoy cars heading into Wellington via the Kāpiti Expressway said that vehicles "came, and they came, and they didn't stop – it was unbelievable", and at times the "queue must have gone on for at least three-quarters of an hour".
"It's going to be huge in Wellington … I don't even know how they're going to get in there", Anne said.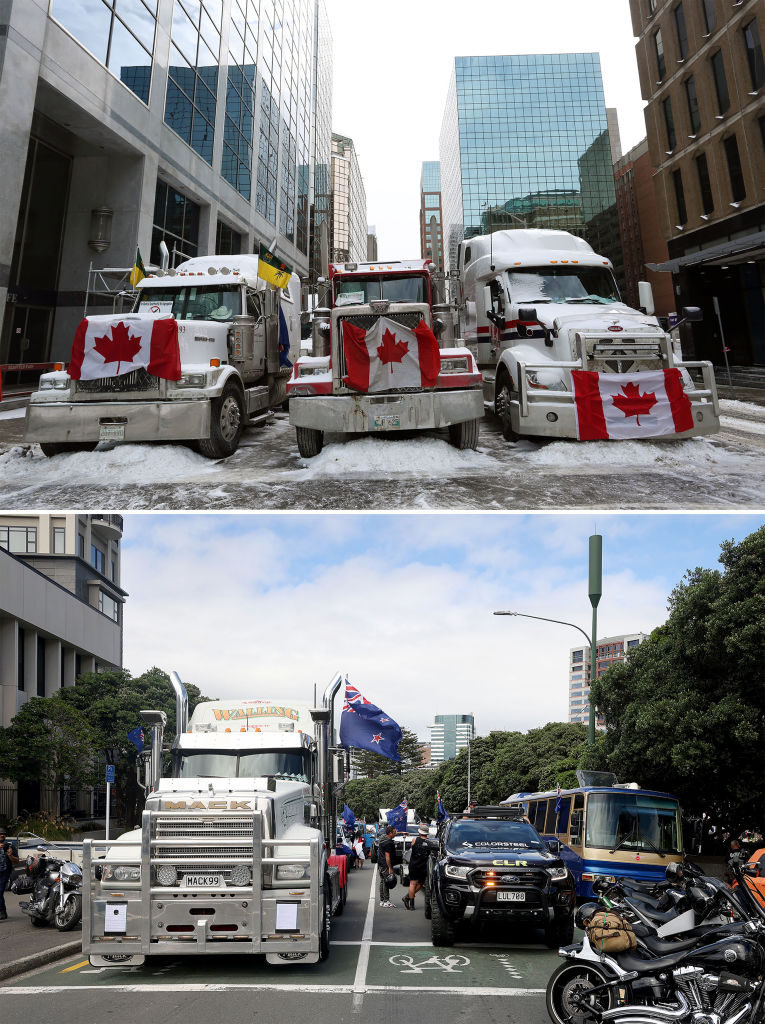 This combination shows trucks (top) parked in the Canadian capital Ottawa during continued protests against coronavirus vaccine mandates and restrictions and a file picture of a convoy parked on the streets in front of the parliament building in New Zealand's capital Wellington on February 8, 2022, during a similar demonstration. (MARTY MELVILLE, DAVE CHAN/AFP via Getty)
The key aims of the protest were reported to be to challenge the mask mandate for pupils in schools and also the vaccination requirement for certain public sector jobs such as for nurses, teachers and police officers.
New Zealand has had some of the strictest coronavirus restrictions, but following both domestic and international pressure has begun to relax its rules.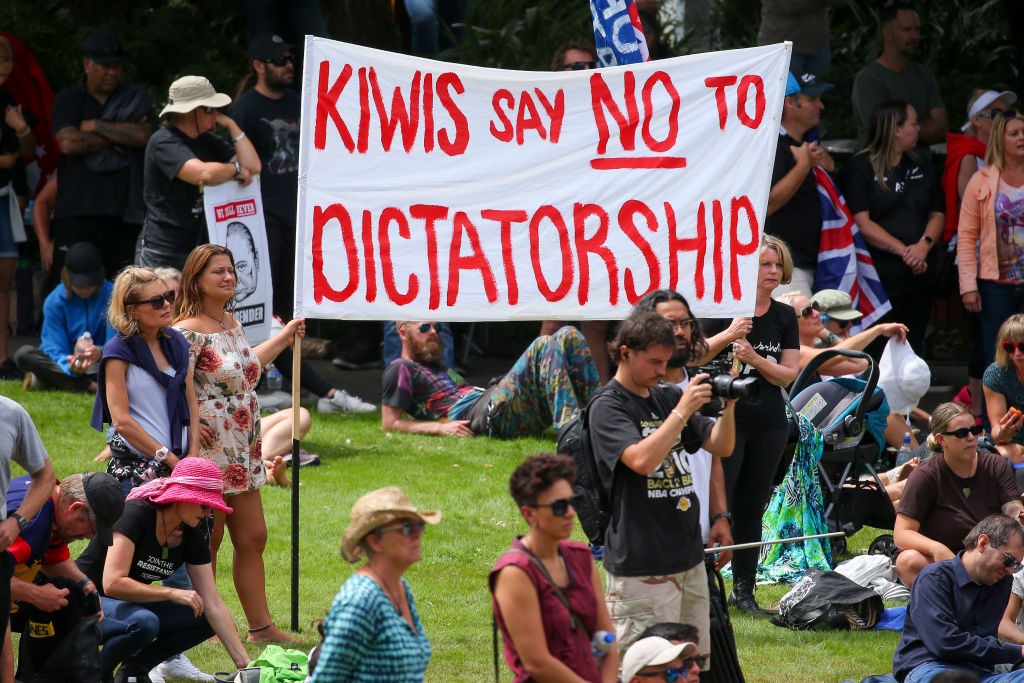 Protesters hold a sign during a protest at Parliament on February 08, 2022 in Wellington, New Zealand. (Hagen Hopkins/Getty Images)
Following the news that Charlotte Bellis, a pregnant New Zealand journalist, was forced to rely on the Taliban for support, in a shocking turn of events, after New Zealand refused her entry, Ardern's government U-turned on their strict entry requirements – introducing a gradual relaxing of the entry requirements – possibly to avoid further embarrassment.
Ardern has also promised she won't implement any more lockdowns.
https://www.breitbart.com/politics/2022/02/08/new-zealand-protest-convoy-blocks-capital-demands-end-to-vaccine-mandates/
---
---
Related
https://www.breitbart.com/podcast/2022/02/08/breitbart-news-daily-podcast-ep-68-trump-gives-rogan-advice-blue-states-finally-relinquishing-mask-control-guest-rep-greg-steube/
https://www.breitbart.com/politics/2022/02/08/canada-pm-justin-trudeau-belittles-freedom-convoy-a-few-people-shouting-and-waving-swastikas/
https://www.breitbart.com/the-media/2022/02/08/ezra-levant-explains-canadian-media-bias-against-truckers-in-epic-thread/