ASBURY REVIVAL – How Did it Happen? Comms Director at Asbury, Abby Laub, Joins Rose Unplugged
By Cristina Laila Feb. 25, 2023
The Asbury Revival – How did it happen?
Kentucky – Asbury Communications Director Abby Laub joined Rose Unplugged to discuss the revival and the timeline of the fascinating event.
50,000 – 70,000 have come through the university!
– Remarkable stories
– Why they didn't live stream in the beginning
– What is going on now?
AUDIO:
THE REVIVAL IS SPREADING: Students from Texas A&M Are Getting Baptized In Public Fountains
By Anthony Scott Feb. 25, 2023
On February 14th The Gateway Pundit reported a revival broke out at Asbury University in Kentucky.
Since that report, several revival services have broken out at universities all across the United States.
The latest revival services that have led young adults to repent and worship Jesus is at Texas A&M University in Galveston, Texas.
Grant Bynum who has been attending the revival services at Aggies Park took to Facebook and stated "This is REAL. Worship, repentance, prayers, no leaders. Physical healing. Baptism. Crowds bigger than last night. It's not religion. It's just meeting JESUS."
CBN reported Michael Fehlauer, who serves as the lead pastor of the New Life Church, has led and filmed several young adults getting baptized in public fountains.
Here's a clip of young adults gathering together on Texas A&M's campus singing worship songs:
As of Friday hundreds of young adults and other members of the community have gathered to Texas A&M to be refreshed by God's Spirit.
One student who has attended services received a healing after a group of 20 students prayed for him.
Per CBN:
Healings are also being reported. One report from Texas A&M in College Station revealed that an A&M student who couldn't previously walk unaided, walked 20 steps after Aggies students prayed over him. One young man shared what he saw in a video posted to Facebook.
'Jesus Revolution' Director on Movie's Release Coinciding with Asbury Revival: 'There's a Divine Hand on the Timing'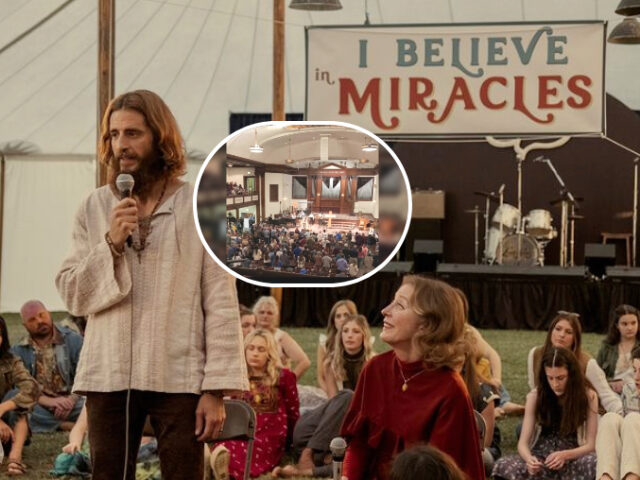 DAVID NG 24 Feb 2023
One of the directors of the new movie Jesus Revolution hasn't missed the fact that the title is opening on the heels of one of the largest Christian revivals in recent years — the Asbury Revival, which saw an estimated 50,000 Gen Z'ers participate in song and prayer over a multi-week period at Asbury University in Kentucky.
Speaking to The Christian Post, filmmaker Jon Erwin, who co-directed the movie with Brent McCorkle, spoke about the serendipity of the release.
"For years, we've been working on this story. We almost got it made, and then COVID got it shut down," he said. "I just think there's a divine hand on the timing of the film. And the reason we made it was … the thing that we've said for years is, if it happened then, it can happen now. If it happened once, it can happen again."
Starring Kelsey Grammer, Jesus Revolution tells the true story of pastor Chuck Smith (Grammer) who welcomed hippies into his traditional congregation at the height of the Jesus movement in California during the 70s. Lionsgate is opening the movie nationwide Friday after holding special screenings on Ash Wednesday.
Watch below:
Erwin told The Christian Post that he traveled to Asbury University to witness the new revival firsthand.
"It felt just like the scenes of the movie, like it felt identical, just the emotion of it, which was why we made the movie," he said. "I just want it to feel awakening, a little bit; renewal, a little bit. And you felt it in that room."
As Breitbart News reported, the Asbury Revival developed into a viral phenomenon on social media, spurring young Christians from around the country, as well as from other countries, to travel to Kentucky to join the movement.
Follow David Ng on Twitter @HeyItsDavidNg. Have a tip? Contact me at dng@breitbart.com
https://www.breitbart.com/entertainment/2023/02/24/jesus-revolution-director-on-movies-release-coinciding-with-asbury-revival-theres-a-divine-hand-on-the-timing/
Asbury Revival? Meh – it's just college kids
Exclusive: Craige McMillan advises the established church to check out the Great Banquet parable
February 24, 2023
The setting: Jesus is eating at the house of a prominent Pharisee. The guests are unresponsive to Jesus' questions to engage their thinking. So He tells them a parable.
Sometimes I marvel at how so many of us in today's churches seem to have ended up in the role of the Pharisees of Jesus' day. I'm not talking about the the new churches of wokism; I'm talking about those of us who have endured lifetimes of good teaching in Bible-centered churches by Bible college and seminary-educated pastors. Could the revival possibly pass us by?
The Asbury University revival seems so foreign to us, because it doesn't look like we expect a revival to look. It's just college kids. No great teachers, no great preachers and no great vocalists. Maybe what God is telling us is that a revival isn't when more people who look like us and think like us and talk like us come to our churches – that's not the revival we should expect.
There is a certain validity to that thinking, isn't there? If the world was already filled with people who were educated like us, looked like us and thought like us, then it would be growing church attendance – not a revival.
In fact, the world today is filled with multitudes of people who don't think like us, look like us and haven't darkened the door of a church in years, decades, or perhaps a whole lifetime. If we believe what we hear preached in those churches that we attend, we would have to admit that the world around us would not be nearly as messed up today as it is, if Christians left the church at the end of the service, went out into the world and practiced what we say we believe.
TRENDING: 'Reverse Woke Act' aims to hold leftist execs 'accountable' for the consequences of their policies
A revival occurs not when a new family who looks like us, talks like us, thinks like us and has already surrendered their lives to Jesus walks through the door of the church, but rather when God compels people who are hurt, angry, drug-addicted and broken to come into the church to meet with God at the altar, and let Him change their lives from the things that are destroying our world, our nations, our culture, our government and our future.
When God sends those who are broken to His church to be healed, we experience revival. People with impossible lives see them changed, because our God has no limits, and he loves even the broken and those who have wrecked their lives by following the world's advice, which turns out to be very much like Satan's advice for having what they thought would be an exceptional life.
In the great banquet parable, the great man lays out a great feast for his wonderful friends and issues invitations. Unfortunately, all of them are busy with their own lives and offer excuses to avoid attending. The great man tells his servants to "go out into the streets and alleys of the town and bring in the poor, the crippled, the blind and the lame." The great man tells his servants to compel people to come in until there is no more room. And then we learn what has happened in the great man's heart: "I tell you, not one of those who were invited will get a taste of my banquet" (Luke 14:24).
What if this parable is for the established church, which is the invited guests to the revival, but they have no time to attend because they are already so busy "doing church"?
---
The real Armageddon Story novel series.
---
Related