By Hans Bader
Image: GDJ/Pixabay
"Today is Thanksgiving, and there is much to be thankful. One lesson of the holiday that we should try not to forget is how the Pilgrims were saved from starvation and misery by adopting a system of private property rights," notes law professor Ilya Somin in the Washington Post.
The Pilgrims' reversal of fortune is described by economist Benjamin Powell:
Many people believe that after suffering through a severe winter, the Pilgrims' food shortages were resolved the following spring when the Native Americans taught them to plant corn and a Thanksgiving celebration resulted. In fact, the pilgrims continued to face chronic food shortages for three years until the harvest of 1623. Bad weather or lack of farming knowledge did not cause the pilgrims' shortages. Bad economic incentives did.

In 1620 Plymouth Plantation was founded with a system of communal property rights. Food and supplies were held in common and then distributed based on equality and need as determined by Plantation officials. People received the same rations whether or not they contributed to producing the food, and residents were forbidden from producing their own food. Governor William Bradford, in his 1647 history, Of Plymouth Plantation, wrote that this system was found to breed much confusion and discontent and retard much employment that would have been to their benefit and comfort. The problem was that "young men, that were most able and fit for labour, did repine that they should spend their time and strength to work for other men's wives and children without any recompense." Because of the poor incentives, little food was produced.

Faced with potential starvation in the spring of 1623, the colony decided to implement a new economic system. Every family was assigned a private parcel of land. They could then keep all they grew for themselves….

This change, Bradford wrote, had very good success, for it made all hands very industrious, so as much more corn was planted than otherwise would have been. Giving people economic incentives changed their behavior….

Once the Pilgrims in the Plymouth Plantation abandoned their communal economic system and adopted one with greater individual property rights, they never again faced the starvation and food shortages of the first three years.
A 1999 article by the Hoover Institution's Tom Bethell provides a more detailed account.
Gary Sinise Gifts Thanksgiving Meals to Nebraska Veterans: 'It Means a Lot'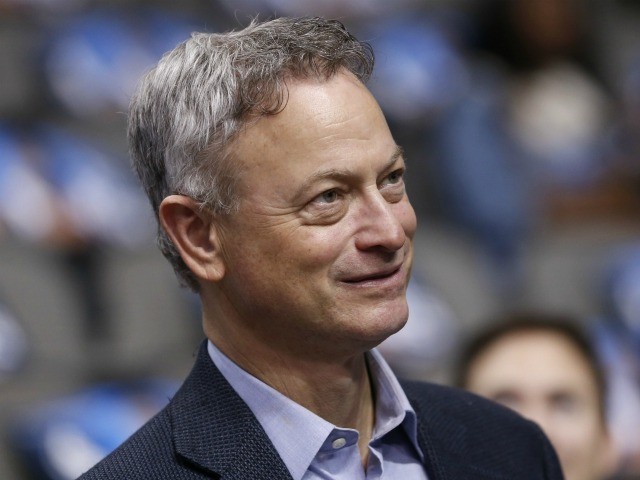 NICK GILBERTSON 25 Nov 2021
Actor Gary Sinise, who played double-amputee Lt. Dan in Robert Zemeckis's 1994 film Forrest Gump, donated Thanksgiving meals to veterans at a VA campus in Lincoln, Nebraska.
Sinise ensured 78 veterans living at the Victory Park apartment complex received a Thanksgiving meal on Wednesday, the Lincoln Journal Star reports. Veterans ranged from the age of 22-74 and served in several different conflicts and wars.
Though Sinise was not in attendance for the festivities, veterans were grateful for his thoughtful offering, according to Property Manager Samantha Garcia.
"It means a lot that he is recognizing them. They sometimes feel forgotten, especially as they get older," she said, per the Lincoln Journal Star. "With Gary being active with veterans himself, it means a lot coming from him."
Emil Jacobson serves in the U.S. Air Force and volunteered to help out in Lincoln on Wednesday, according to NTV.
"I myself am in the service, I just feel like its really important to give back to those who come before us and pay homage and help these guys out," Jacobson said.
"It's very important, especially with all of the Holidays coming up we have to make sure everyone knows we are here for each other," Jacobsen added.
Hy-Vee catered the meals which were served to the veterans by Gold Star Mothers and Blue Star Mothers.
"It's so important to remember that these people are here and remember what they've done for us," Garcia said, per the Lincoln Journal Star.
Sinise also donated meals to veterans who reside at a VA in Omaha, NTV reports.
The Apollo 13 star has a long history of assisting veterans. His nonprofit, The Gary Sinise Foundation, recently provided a marine, who was severely wounded in Afghanistan, with a smart home, Breitbart News reported.
"At the Gary Sinise Foundation, we serve our nation by honoring our defenders, veterans, first responders, their families, and those in need," the foundation's mission statement reads. "We do this by creating and supporting unique programs designed to entertain, educate, inspire, strengthen, and build communities."
https://www.breitbart.com/entertainment/2021/11/25/actor-gary-sinise-gifts-thanksgiving-meals-to-nebraska-veterans/
---
Doug Ross: Capitalism is the Ultimate Form of Humanism
By Joe Hoft November 26, 2021
Doug Ross released another great read from the Private Journal of Doug Ross. This one explains the difference between capitalism and communism from a simple and yet powerful perspective.
The Private Journal of Doug Ross shared a post with me yesterday on Thanksgiving that was outstanding, so decided to share in part here:
Ross shares about parenthood and how our children love to be affirmed. This in innate in our nature:
You'll find that your child seeks, no… craves, attention, affirmation and connection with other human beings.

At 14 months, your child wants to hear your applause as an unsteady stumble turns into a first unassisted walk.

At 10 years old, your child will be on the diving board at the local pool waving arms and shouting, "Look at me, Mom! Look at me!"

At 24, your child will beam as you congratulate them on their first promotion at work.

Human beings desire attention, confirmation and validation from other humans, from their earliest days to their last.
Next Ross notes that capitalism is humanism where efforts are recognized.
Capitalism has succeeded where all other economic arrangements have failed because it recognizes the basic needs of humanity.

Someone who has masterful woodworking skills can secure a living creating cabinetry and custom furniture. They enjoy the beauty of their creations and simultaneously the kudos they receive.

"Look at me, Mom!"

Another person might find a special talent in computer programming, another in writing books, and still another in plumbing and HVAC.
Then Ross compares capitalism to Marxism and it's clear why the latter fails:
Marxism rejects the unique human need for attention, recognition and achievement.

Each individual is unique in G-d's eyes. Marxism rejects individuality and places control in the hands of a planning elite that can never organize individuals as well as they can organize themselves.

"Look at me, Mom!"

Marxism tells the 10-year old on the diving board to shut up, get off the diving board and follow orders.

Marxism is an anti-human system of government and should be treated as a poison among all educated peoples.
What an excellent analysis. Well done Mr. Ross.